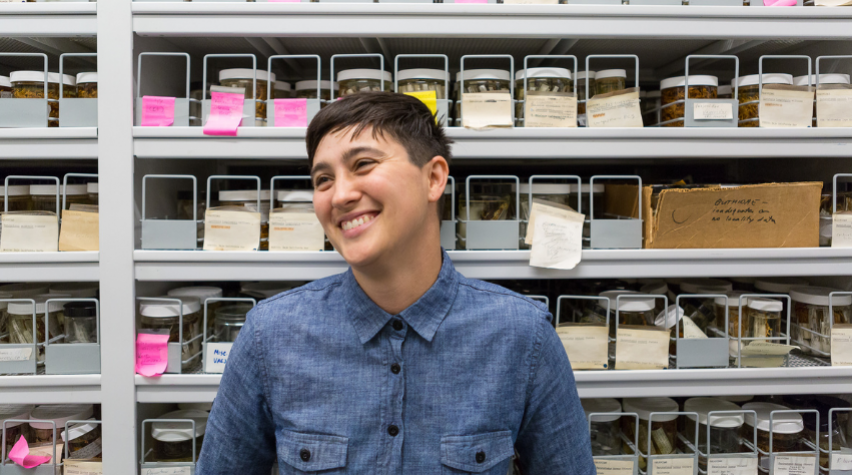 In this fourth installment of our series, Pride Month: Recognizing LGBTQIA+ Chemical Engineers, we interviewed founder and director of 500 Queer Scientists Dr. Lauren Esposito. 500 Queer Scientists began as a visibility campaign for LGBTQ+ people and their allies working in STEM and STEM-supporting jobs and has since blossomed into a community. Dr. Esposito discusses her inspiration behind beginning her campaign, why LGBTQ+ visibility in STEM is important, and future goals she aims to accomplish with the 500 QS community.
Tell us a bit about yourself and your work as a scientist.
I'm an arachnologist (spiders, scorpions, and the like) and I work broadly on what could be called biodiversity science. My research is focused on documenting what species live on Earth today, understanding the past patterns and processes that led to the present day diversity, and using this information to halt biodiversity loss occurring as a result of human-mediated global change. My research brings me to (mostly) tropical islands around the world, and I get to employ all sorts of modern technologies in the work—genomics for understanding the tree of life, micro-CT scanning for seeing the detailed anatomy of tiny things, etc.
Lauren searching for scorpions in Arizona. Photo by Nate Dappen.
What inspired you to create 500 Queer Scientists?
Prior to founding 500 Queer Scientists in 2018, I'd never thought of myself as an activist in any space. I think for many queer people, we fight daily battles through micro- and macro-aggressions just to gain a seat at the STEM table. I hadn't ever recognized for myself the cumulative effect this had on my own perception of belonging.
In the spring of 2018, I was helping to organize an event focused on women in science (in partnership with 500 Women Scientists) and had this moment where I realized that I was jealous, in a way. What 500 Women Scientists had accomplished was incredible for the women-in-STEM community, but that wasn't my community. I'd never had an LGBTQ+ labmate, never had an LGBTQ+ mentor or professor, and at my institution—the oldest natural history museum west of the Mississippi—I was the first queer curator. I decided then that I wanted to do something to help myself, and hopefully others, feel less alone.
We're here, we're queer, and we're driving discovery and the advancement of STEM.
Why is the visibility of LGBTQ+ people and allies working in STEM important?
Well, when it comes to being an ally, visibility really isn't enough—being an ally is an action, and if you aren't actively doing something to make spaces more equitable and inclusive, then intentions aside, you aren't yet helping make STEM better. We know it can feel difficult or awkward to start using your voice as an ally, but if it's something you genuinely care about, then we encourage you to just step up and be vocal, take action, actively create space and a culture of respect. You'll get more effective as you do, and STEM will be a better place.
As for why it's important to include LGBTQ+ identities in STEM, the answer is clearly written in history: Sally Ride, Alan Turing, Lynn Conway. They all made incredible contributions to STEM, but were forced to either live their lives secretly (Ride), or faced severe consequences from society and the STEM community itself when they came out (Conway), or were forcibly outed (Turing). Visibility doesn't just make the queer-in-STEM community happier and more productive—it creates recognition of the accomplishments we've made not in spite of our identities, but because of them.
What progress has 500 Queer Scientists made toward LGBTQ+ visibility in STEM?
We began three years ago as a digital campaign to raise visibility, with just 50 contributors and the hope that we'd reach everyone out there feeling isolated and alone, questioning whether they belonged in STEM. In the time since, we've grown to more than 1,500 contributed stories from a proud and vibrant community that continues to inspire every single day.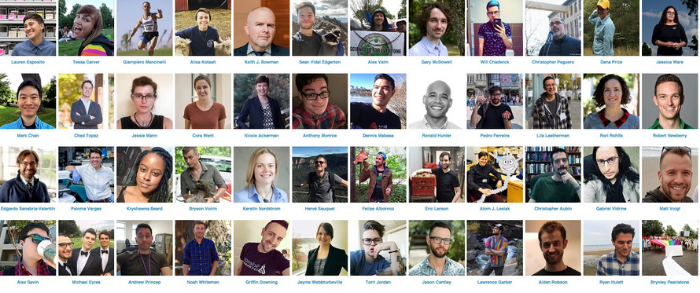 Pictured above are the first 48 members of the 500QS community to share their story.
Our website receives over 10K unique visitors a month—people who read the stories of rocket scientists and policy advisors, directors of research institutes, and undergraduate students. And I'd again like to emphasize that we, as a group, celebrate queer identity every single day of the year, not just during the month of Pride. When this first started, I wondered whether there were other people like me out there in the world. Today, the answer is resounding: We're here, we're queer, and we're driving discovery and the advancement of STEM.
What are some future goals you hope to accomplish with your site?
500 Queer Scientists has moved well beyond a website or a campaign. We're now an actual community, and 500QS is here to serve that community by steadily expanding—but staying true to—what we first set out to do. We added a search functionality to our contributor database for better networking, and we launched a monthly newsletter called The Reader, in which we publish interviews highlighting our contributors, other organizations we think are doing great things, and all of the amazing queer-in-STEM content creators out there making podcasts, TV shows, blogs, and more.
We also host a community calendar of events, and a job board. During the pandemic year, we hosted a series of virtual mixers for the community and will continue to do so in the future, moving into areas of the world where LGBTQ+ people are at risk of ostracization, violence, or death. We're also working to connect with scientific societies, urging them to program LGBTQ+ events at their conferences. These events allow our community to connect and network in safe spaces and are critical in recruitment and retention of LGBTQ+ people in STEM.
We also recently collaborated with the California Academy of Sciences, the IF/THEN Collection, and ASTC on an exhibit called "New Science" that explores how queer and intersectional identities are revolutionizing STEM. That exhibit opens in-person and online June 24 and was designed to be downloaded free for display by any museum, organization, or community space in the world.
---
The 500 Queer Scientists logo.
What is a memorable experience you've had since starting 500 Queer Scientists?
When we launched, we had no idea what would happen—what the response from the community would be. The first couple of weeks were overwhelming as hundreds of contributions poured in, and our small team read and copyedited every single one of them. I can remember texting with one of the founding members (and our communications strategist), Laurel Allen, as we both sat at our desks on different floors of the California Academy of Sciences with tears streaming down our faces. The stories people have shared are all at once heartbreaking, uplifting, and inspiring—they're the stories of a community that is as vibrant as it is resilient. My community.
Are you an LGBTQ+ chemical engineer or ally interested in sharing your story with 500 Queer Scientists? Contribute here.
Join AIChE's LGBTQ+ & Allies Online Community
This community is open to professional AIChE members who are LGBTQ+ and allies. Topics of discussion will include the ongoing development of LGBTQ+ initiatives within AIChE, plus issues concerning, and opportunities for, LGBTQ+ chemical engineering professionals.
The LGBTQ+ & Allies Community supports the IDEAL path.
Learn more about the community.