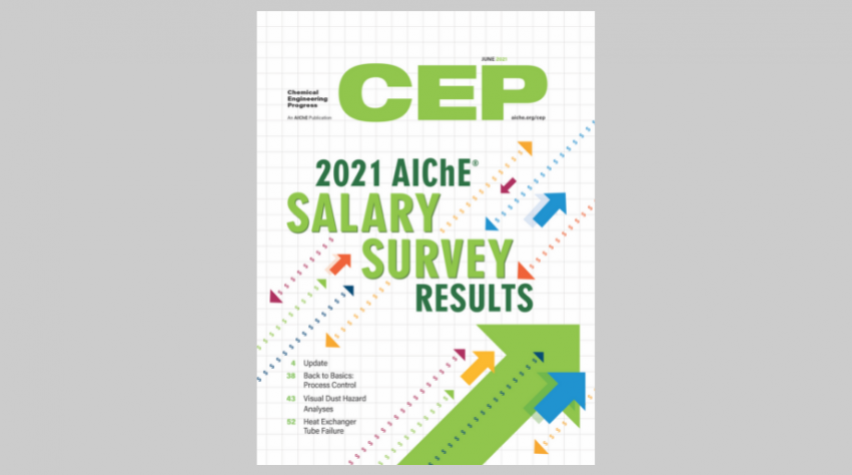 Salary Survey
2021 AIChE Salary Survey
The results of the 2021 Salary Survey are in! Uncover how factors such as gender, race, age, experience, location, and industry affect salary. Find additional tables and data online at www.aiche.org/cep.
Back to Basics
Empirical Process Control: Part I
Good process control requires more than just correctly tuning the controller. First, you need to understand the parts of the process to determine the necessary type of control.
Safety
Visual Dust Hazard Analyses Using Bowties
Bowtie diagrams help workers quickly visualize and manage threats that can cause uncontrolled ignition of dust, as well as identify the barriers that prevent ignition.
Heat Transfer
Identify Root Causes of Heat Exchanger Tube Failure
Effective root cause analysis (RCA) can resolve recurring heat exchanger tube failure, enabling safe operation and reducing costs.
News Update
Discussing LGBTQIA+ in Engineering and Corporate America
A Protein Vaccine for COVID Immunity
Genetic Engineering Combats Alzheimer's
Clean, Green Hydrogen Production
Plus
Editorial: The Results Are In
Catalyzing Commercialization:Clean, Low-Energy Method for Primary Magnesium Metal Production
AIChE Journal Highlight: Metal-Organic Framework Membranes for Gas Separations
Advanced Manufacturing Progress: Turning Distributed Low-Value Wastes into Sustainable Products
Profile: Jennifer Wilcox — Creating Policy to Protect the Environment
Process Safety Beacon: Combustible Dust Hazards Are Everywhere
Career Connection: What Skills Do Managers Need Today?
New Products: Instrumentation; Fluids and Solids Handling; Bioprocessing; Heat Transfer; Software; Materials and Chemicals
Books
Calendars
Institute News

Introducing Some of AIChE's Recently Elected Fellows
2021 Annual Meeting to Offer In-Person and Online Attendance
The June issue of CEP is now available on the AIChE website, on the CEP app, and as a digital flipbook.
Coming in the July issue: Special Section on Waste Plastics Recycling
This special section will focus on the technical challenges and opportunities in replacing, recycling, and reusing plastics, and will give readers a glimpse into recent developments in the quest for a plastics circular economy.