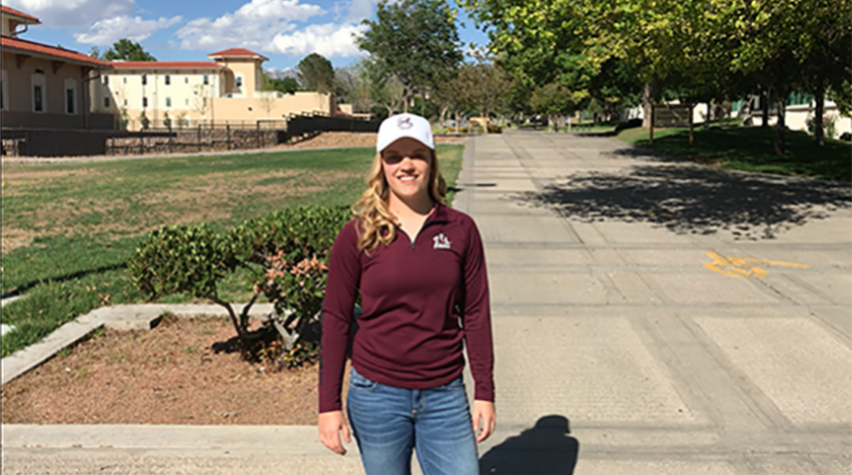 Story written by Maria Carmona-Montalvo and Michael Böhm.
Thousands of young scientists in New Mexico have Jessie Linder to thank for their inspiration to question the universe and to not be afraid of getting their hands dirty. Jessie is the president of the New Mexico State University Chapter of Omega Chi Epsilon (OXE) Chemical Engineering Honor Society and a four-year officer in the school's AIChE Student Chapter. The first outreach activity she coordinated served over two thousand marginalized K-12 students in Northern New Mexico.
Jessie was born and raised in the Albuquerque area of New Mexico. Both of her parents are New Mexico State University-trained engineers. You might think that Jessie was destined to pursue engineering as a career, but life can get a bit complicated. Jessie credits outreach activities for keeping her interested in STEM while she was in middle and high school. She also credits her own outreach activities with giving her valuable skills that helped her secure three internships at industry-leading companies in the U.S. Now, Jessie is heading into her senior year as a chemical engineering student at New Mexico State University and already has a job offer.
Jessie is unapologetically bold in her desire to help kids develop a passion for STEM. She is a longtime K-12 outreach champion who encourages other college students to get involved in STEM outreach, because of its positive effect on both the person conducting the science activity and on the participants. She also warns middle and high school students to not lose interest in STEM because a degree in STEM can take them anywhere they want to go.
An uncommon and unexpected start
Jessie started on her STEM outreach path by happenstance, a stroke of luck. Just a couple of months before a planned event, a large company pulled out of the Discovery Festival, which is one of Albuquerque's largest hands-on science demonstrations. Jessie became aware of the situation, and only a month or so into her freshman year as a chemical engineering student, she was asked to coordinate the New Mexico State Chapter's participation as a Festival exhibitor. Honeywell agreed to sponsor the school's science demo.
"The event was going to be at the end of October, so over the next few months I went to every STEM outreach event that we were doing and tried to learn as much as I could about how to put one of those together. And, come October, I got a group of students together and we went up there and had an absolute blast," said Linder.
Not only did they have a blast, but they also walked away with several awards, including one for Kid's Choice and Best Hands-on Demo. Jessie tasted absolute success and she wanted more.
What keeps Jessie motivated
Winning awards is not what motivates Jessie to stay involved. She loves to work with elementary school-age students because in her own words, "They are so pure in their enjoyment and they haven't reached that 'too cool for school' attitude yet. It feels like if you show them something STEM-related you can see that it made them excited. It made them interested in it. You think maybe this is the event that they will remember and get them excited and will take them to enjoy their next math class, science class, or wherever they are going to next. Being able to see that excitement out of the kids is really, really cool.
"As a general note...the more hands-on you can make the event…the better it goes," Jessie recommends. "It's not just a matter of going out to schools and talking to kids. You have to think like a kid, imagine their response to the activities, and above all you have to make a show out of it. Get them excited, get them pumped for what is about to happen, and they will remember every step of the way."