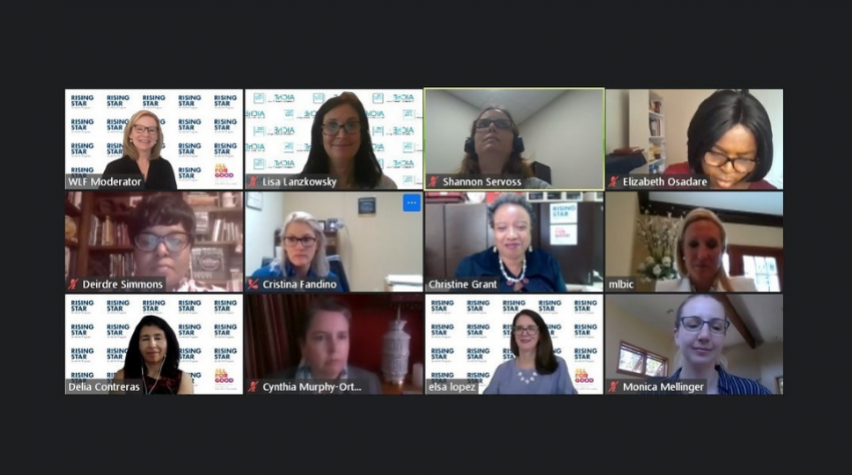 On June 23, more than 50 woman executives representing industry and academia gathered online to participate in the latest event in the AIChE Foundation's series of Rising Star Leadership Workshop for Women in Engineering. Part of AIChE's All for Good initiative, the Rising Star program provides coaching and communication training for early- and mid-career women in leadership roles, and supports one of AIChE's objectives to retain and advance women in the chemical engineering profession. First conducted in 2018, the June Rising Star event was AIChE's first to be conducted on a virtual platform.
The program
Susan Dunlap, an executive communications trainer and the founder of the Women's Leadership Forum, led a discussion designed to help women find their authentic communication style, or presence, in professional settings. The program delved into the dynamics of gender-based communication norms in the workplace, and prompted the attendees to examine the components of personal presence — such as self-confidence, poise, tone, empathy, and honesty — that help to engender trust and a positive emotional connection between leaders and colleagues.
Dunlap noted that in the midst of COVID-19, with substantial business communication taking place online and the need to convey important information across the on-screen barrier, thoughtful communication and careful self-presentation by leaders is more crucial than ever.
The panelists
The Rising Star workshop also showcased a panel of woman executives who reflected on their own growth as leaders. The panelists included Christine Bryant, Senior Vice President at Covestro; Delia Contreras, Vice President at Honeywell; Christine Grant, Professor and Associate Dean of Faculty Development at North Carolina State University; and Cynthia Murphy-Ortega, Manager of University Partnerships and Association Relations at Chevron.
The panelists described their personal trajectories as emerging leaders, as they — in the words of Grant — "went from being a person in the room to being a presence in the room." Murphy-Ortega noted that, often, leadership qualities emerge on the job and out of necessity as one assumes new responsibilities. Bryant added that one's arrival as a leader entails learning to think less about one's own professional development and progress, and to focus more on one's responsibility to help staff and the organization to progress, and to ensure that the organization will be left in the best possible hands.
Future workshops
Additional Rising Star workshops are being scheduled for upcoming live and virtual AIChE conferences. For more information about Rising Star and all the programs of the AIChE Foundation, visit www.aiche.org/giving.