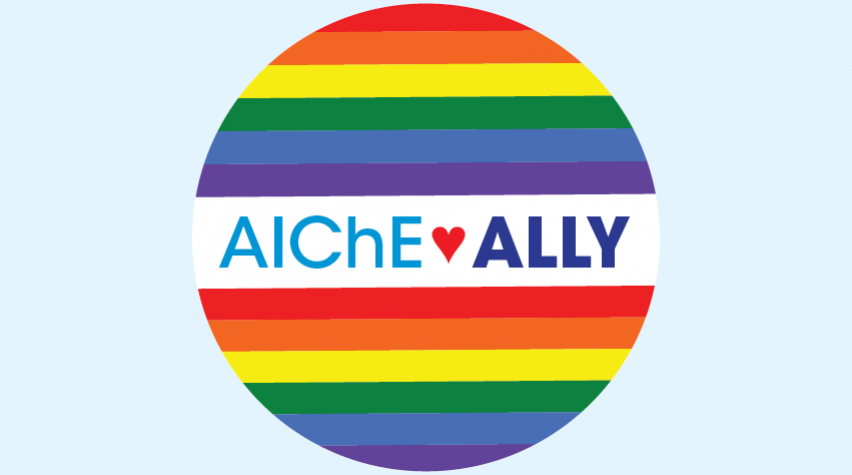 June is Pride Month and for the first time ever AIChE is offering you a chance to share your allyship with the AIChE Engage community. No matter how you fit into the LGBTQ+ community — whether you're an out engineer, identify as LGBTQ+, or an ally looking to share support during pride month — we invite you to claim your ally pride badge and show how we're all allies to one another in this community.
How does it work?
Clicking on the Show Your Pride link below will bring you to the AIChE Engage site. You'll have to log in with your AIChE credentials. Once you do, you'll see an orange button to the right that says "Join Community." Click on that to opt-in and claim your ribbon and badge.
Where will your badge show?
You're pride ribbon and badge will appear in your profile, the former on the left side of your profile and the latter under the "My Contributions" tab and "Achievements" drop down.
Opting out
We invite you to show your pride allyship all year long but if you'd like to opt out, you can do so. Click the link below to learn more.
Show your pride
Join AIChE's LGBTQ+ & Allies Online Community
This community is open to professional AIChE members who are LGBTQ+ and allies. Topics of discussion will include the ongoing development of LGBTQ+ initiatives within AIChE, plus issues concerning, and opportunities for, LGBTQ+ chemical engineering professionals.
Learn more about the community.
Learn more about AIChE's Diversity and Inclusion Initiatives.
Interested in helping?
Are you an LGBTQ+ chemical engineer and AIChE member interested in sharing your story to help create awareness around diversity and inclusion? Are you an LGBTQ+ ally interested in helping with diversity and inclusion efforts? Send us a note at chenected@aiche.org with the subject "Diversity and Inclusion."