From Margaret Hutchinson Rousseau and Mae Jemison to Barbara Minor and Frances Arnold, trailblazing and brilliant chemical engineers have inspired thousands of women and underrepresented groups to follow in their footsteps to change the course of history and become chemical engineers.
To celebrate International Women's Day 2020, we're taking a look back over the past year to some of the achievements of women in chemical engineering.
Sharon Beshouri Receives the 2019 AGILE Award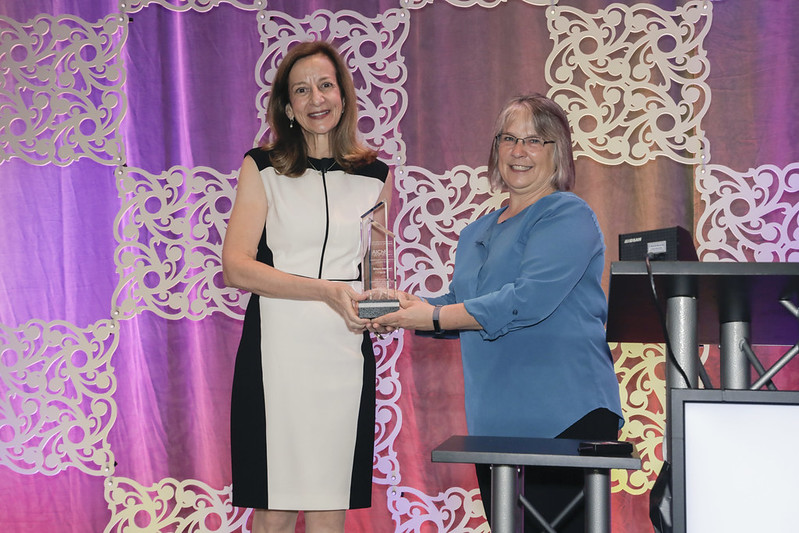 Sharon Beshouri, President of Shell Global Solutions U.S. and Vice President for Shell's Catalyst Technologies, opened the 2019 AIChE Spring Meeting and Global Congress on Process Safety in New Orleans with her AGILE Award Keynote Address.
Following her talk, Sharon sat down with Shariq Yosufzai, chair of the AIChE Foundation and retired Vice President, Global Diversity for Chevron. They discussed her work at Shell, including the transition from hydrocarbons to renewable fuels, as well as the importance of knowledge transfer to the next generation.
Doing a World of Good Raj and Kamla Gupta Podcast
In this past year there have been several episodes of the Doing a World of Good Raj and Kamla Gupta Podcast featuring women in chemical engineering. Here are some of their stories:
Zenaida Gephardt and Ana Davis
In this episode we hear Ana Davis and Zenaida Gephardt discuss the impact of the lack of diversity and inclusion within the field, the journey to becoming your authentic self, and how AIChE is helping to change the landscape for the next generation of women and minorities. Both women are also the most recent recipients of the AIChE Minority Affairs Committee Eminent Chemical Engineers Award.
Jessica Boyer and Jenna Caputo
Jessica Boyer and Jenna Caputo discuss their experiences during the 2018 session of the Inaugural Rising Stars Leadership Workshop for Women Engineers, and the importance of the workshop to recognize and encourage the efforts of women in our industry.
The Rising Stars Leadership Workshop is a program developed under the AIChE All for Good: Engineering for Inclusion initiative, a comprehensive, industrywide collaboration to bring together industry, academia, and engineering professionals to share best practices, fund new programming, and increase inclusion for all in the engineering profession.
Lilia Abron and Gilda Barabino
In this episode of the Foundation's Doing a World of Good podcast, you'll meet Lilia Abron and Gilda Barabino, two role-models in the field of chemical engineering.
Dr. Lilia Abron is the first African-American woman to receive a PhD in chemical engineering and also went on to found Peer Engineering and Peer Africa, which led the industry into the issues of environmental engineering long before it was in vogue to do so.
Dr. Gilda Barabino is Dean of the Grove School of Engineering at the City College of New York, a newly elected member of the National Academy of Engineering, winner of the 2019 AIChE Award for Service to Society, and was recently included on Crain's inaugural list of Notable Women in Tech.
Advance Inclusion at the 2020 AIChE Spring Meeting
The AIChE Foundation is proud to support the following events at the 2020 AIChE Spring Meeting in Houston. We invite you to join a session to advance inclusion in the chemical engineering profession by attending a societal impact session.
Monday, March 30, 2020 - WIC Connect
Join the Women in Chemical Engineering (WIC) at the annual WIC Connect mixer to network and connect with colleagues, allies, and others interested in supporting women in the profession. Snacks and refreshments will be served.
Tuesday, March 31, 2020 - WIC Breakfast Keynote
Attend the WIC Breakfast Keynote (ticketed event), a signature event featuring Camille Batiste, President of Global Supply Chain and President of Nutrition Optimization at ADM.
Tuesday, March 31, 2020 - Rising Star Leadership Workshop for Women Engineers
Attend the Rising Star Leadership Workshop for Women Engineers (ticketed event), a targeted session that looks at the dynamics of gender communications and how to cultivate an authentic presence in the workplace. The "Empowering Women in Engineering" panel discussion will follow the session, with industry leaders sharing perspectives on how women can find their voice, navigate the workplace, and communicate for success.
Learn more about these events at the 2020 AIChE Spring Meeting.