On Tuesday, December 11, 2018, more than fifty women from companies around world participated in the Leadership Workshop for Rising Star Women in Engineering. The workshop was held at the New York City headquarters of Pfizer Inc with Susan Dunlap, an executive coach and communication trainer.
Dunlap gave a quick overview on the dynamics of gender communication norms and stereotypes and the differing communication styles of men and women in the workplace. She also explored how these norms and stereotypes impact the three aspects of communication — body, emotion, and language.
Gender stereotypes and implicit biases can potentially impede career progress — and attendees learned how to circumvent those roadblocks. To dive into this even further, participants took part in several exercises emphasizing non-verbal communication through the body and emotion.
Communication: body, emotion, and language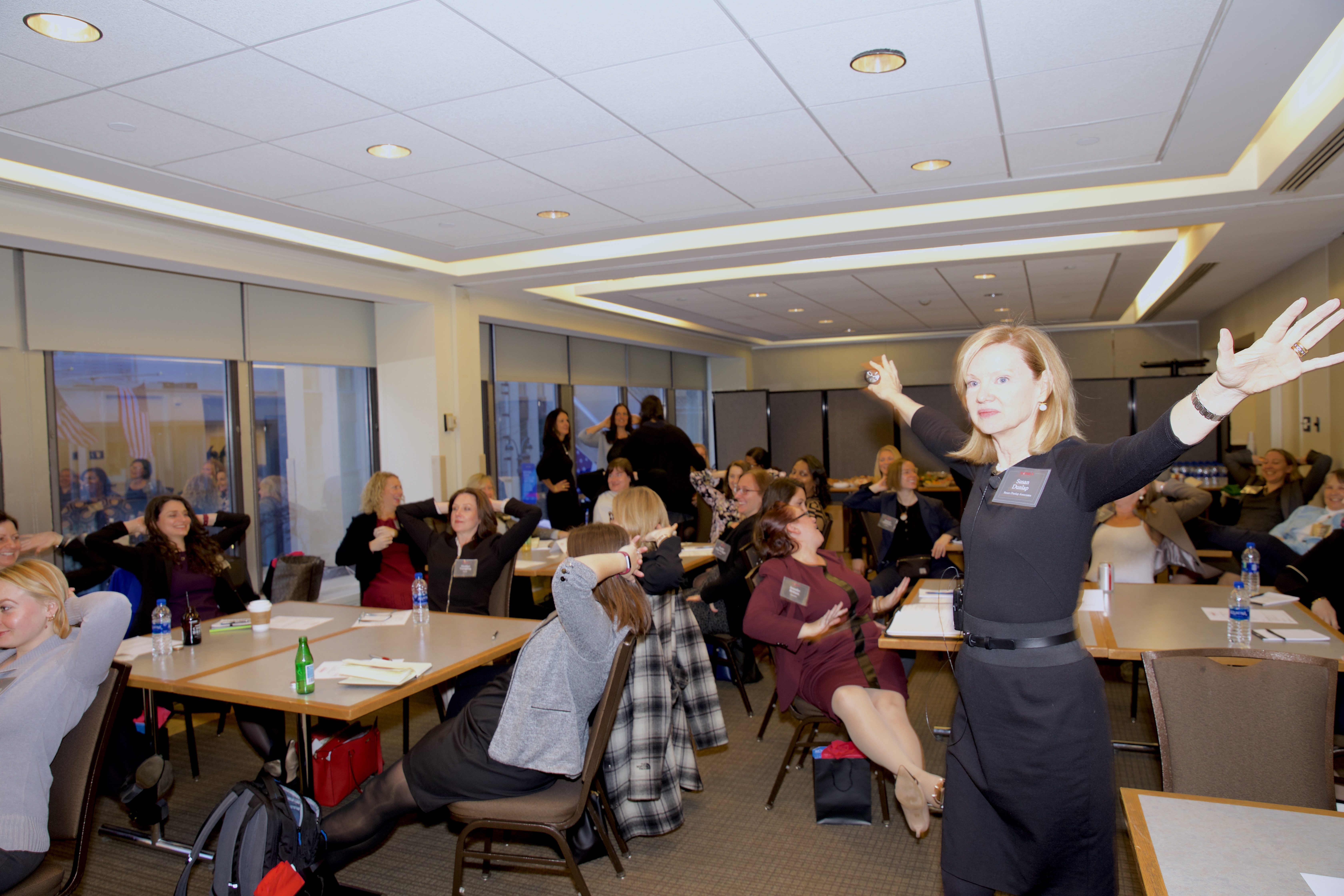 Through several exercises, attendees could feel the effect that the body has on the mind, and therefore on behavior. A change in behavior, Dunlap shared, can change outcomes.
Participants learned that humans naturally gravitate toward the calmest person in the room. With that in mind, workshop participants were lead through a centering exercise.
They were advised to 'center' before and after transitions at work — calls, meetings, presentations, and the switch from work to home, and to also center when they've experienced negative emotions such as fear, anger, and resentment.

Dunlap also went over how women undermine themselves with their choice of words. A couple examples were:
Inserting just: "I just want to check in and see…" "I just think…"
Inserting actually: "I actually disagree…" "I actually have a question."
Using qualifiers: "I'm no expert in this, but…" or "I know you all have been researching this for a long time, but…"
Asking, "Does that make sense?" or "Am I making sense?"
Apologizing
Finally, the attendees were asked to identify their current method of communication and the communication style they aspire to. Through discussion and activities, and a list of practices to continue beyond the workshop, participants will continue to develop skills for communicating with a more authentic presence to effectively meet and network in the workplace and beyond.
Panel of industry leaders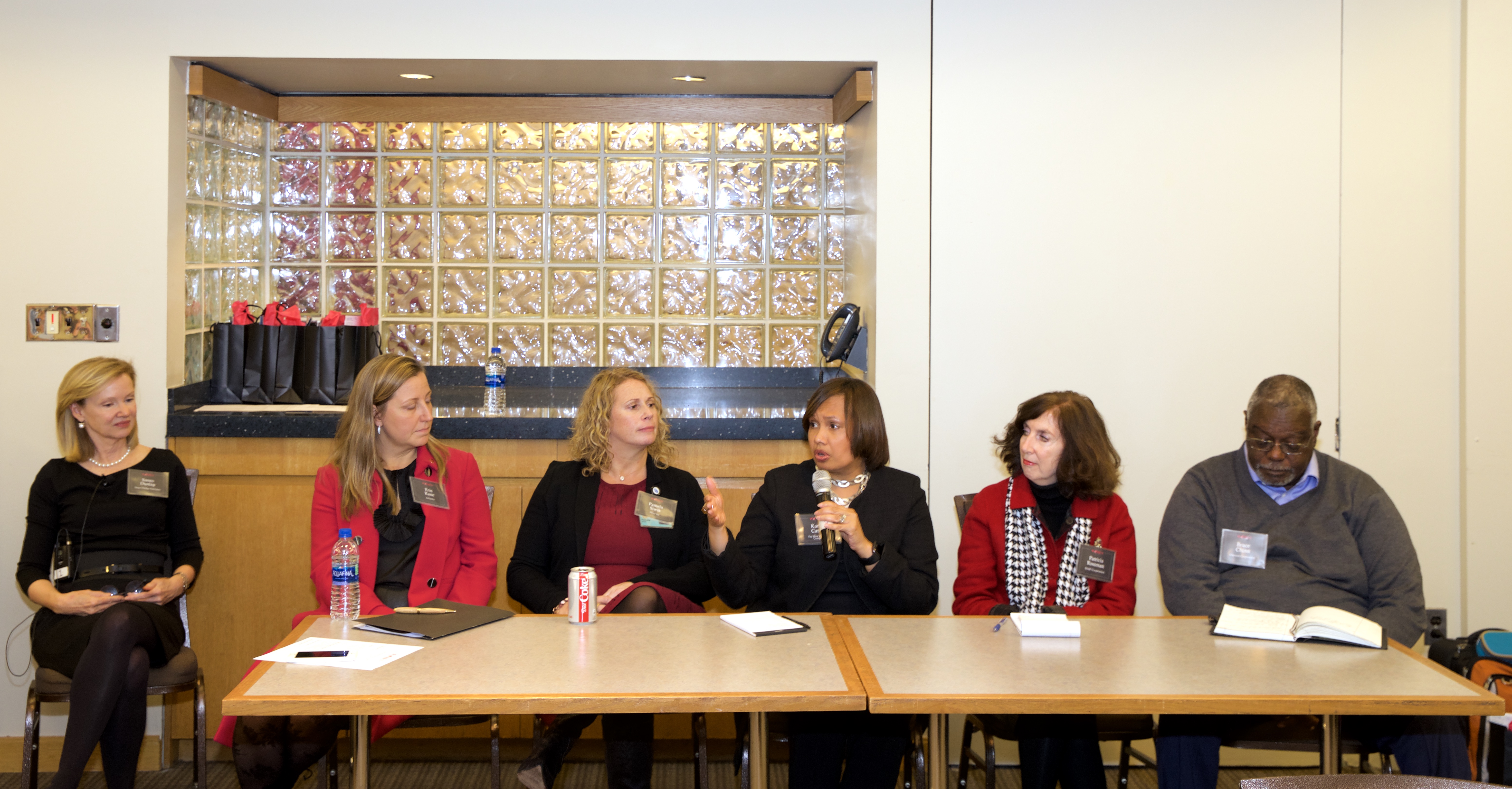 (From L to R) Moderator Susan Dunlap; Erin Kane, President and Chief Executive Officer of AdvanSix Inc.; Pamela Siwik, Vice President, Pfizer Global Supply, Pfizer Inc.; Karen Carter, Chief Inclusion Officer and the Chief Human Resources Officer, The Dow Chemical Company; Patricia Rossman, Chief Diversity Officer, BASF Corporation; and Bruce Chinn, President of Chevron Chemicals
Following the workshop and lunch, an executive panel offered advice on how women can find their authentic voices, navigate workplace hierarchies, and communication effectively.
For more information, see the press release.
2018 AIChE Gala
Later that evening, participants and panelists attended the 2018 AIChE Gala, whose theme was inspiring and empowering women in engineering. Funds raised will underwrite the expansion of women's leadership programs, improve pre-college STEM education for girls, and advance retention programs for women engineering undergraduates, graduate students, and young professionals.
Slideshow