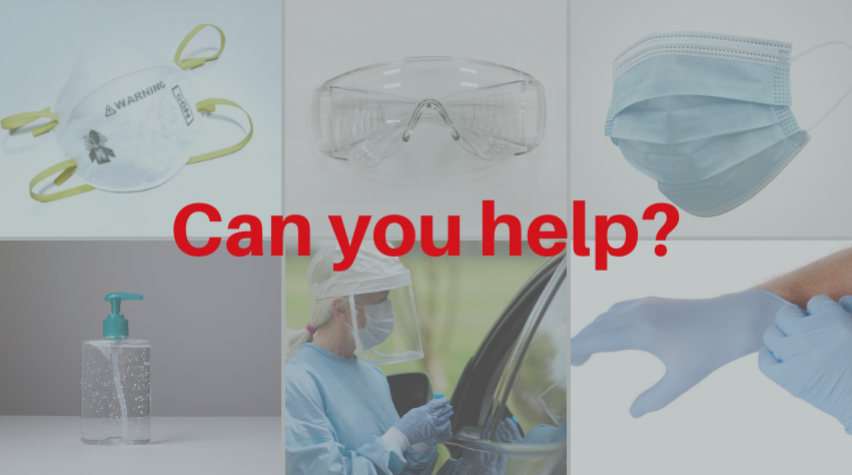 As many of you are aware, there is a shortage of PPE (Personal Protective Equipment) to help medical professionals fight COVID-19. Without this equipment, doctors, nurses, and aides can't prevent themselves from getting infected and thus can't safely do their critical jobs. The supply chain is overtaxed and according to the WHO, prices have surged and supplies are often going to the highest bidder.
How to help
Fortunately, in times of crisis, people and organizations rise to the occasion to help. The National PPE Coalition is a leadership response to the shortage of personal protective equipment. In addition to providing a hotline to connect hospitals with suppliers, they're creating awareness of new supply sources and of the following U.S.-based PPE clearinghouses:
Project N95 -The National COVID-19 Medical Equipment Clearinghouse
This organization is working with governments to determine where the need is most urgent. They're seeking to connect with government partners (city, county, or state government agencies) to optimize shipping and distribution. They also have a supplier intake form and medical request form.
#GetUsPPE
Requesting and donating
This well-organized website makes it easy to find out exactly where donations are needed. You can search by region or state and then see a map, along with the mailing and physical addresses of the donation sites most in need and closest to you. In addition, you can request equipment, by providing your address, drop-off instructions, and the specific types of equipment you need.
Resources for those who make PPE
#GetUsPPE also provides resources for organizations involved in 3D printing, CNC manufacturing, rapid prototyping (injection molding and laser printing), and the sewing and textile industries. You can register as a #GetUsPPE "maker" and then get started. They even provide sample scripts for calling hospitals or for inclusion with your shipment.
What types of PPE are most needed?
N95 respirators
Surgical masks
Protective goggles
Gloves (Nitrile, non-powdered)
Face shields
Disinfectant wipes
Chemical engineers can help
PPE is used daily by many AIChE members—by students and teachers involved in their student chapters and by those working in a plant or lab. If you or your organization has PPE to spare, I encourage you to check out some of the links above. Do any of you know how to sew? This Lehigh Valley, PA, organization has provided a tutorial on how to sew masks yourself.
Share your story
I have a feeling that many of our universities and industry partners are already involved in supplying or donating PPE, potentially in their own local area, whether in the U.S. or in one of the 110 countries where AIChE has members. As an international organization, we'd like to hear positive stories from ChemEs worldwide on AIChE Engage. It's important to remember that we're in this together.
Have you donated PPE in your local area?
Do you have other suggestions for PPE resources (worldwide or U.S.)?