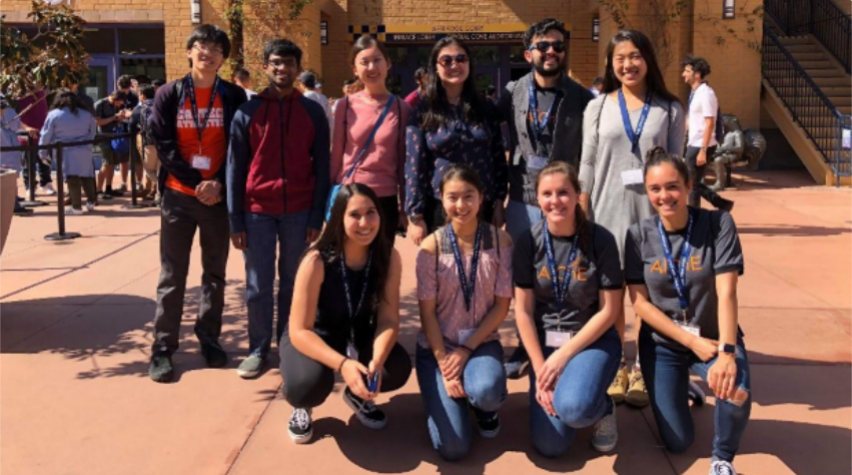 In this month's Sister Chapter Spotlight, the Executive Student Committee (ESC) is pleased to introduce you to the Sister Chapter duo made up of the Student Chapters from the California Institute of Technology (Caltech) in Pasadena, California, and Indian Institute of Technology, Gandhinagar (IITGn) in Ahmedabad, India. Recently, the Caltech Student Chapter formed a Chem-E-Car team and is preparing to compete in a Chem-E-Car Competition® for the first time. The IITGn Student Chapter, having competed in the 2018 India Student Regional Conference Chem-E-Car Competition, has been able to share experience and insights with their Sister Chapter. We asked each Chapter to answer a different set of questions about their Chem-E-Car discussions and compiled their responses below.
How many miles separate your Student Chapter from IITGn and how do you keep in touch with your Sister Chapter from afar?
Caltech: Our Sister Chapter is located around 8,000 miles away in India. We discuss with the help of apps like Skype and WhatsApp.
How has being a part of the Sister Chapter program brought you closer to AIChE? Have you begun taking advantage of any new benefits or competitions that are available to students?
IITGn: Caltech has shared the resources they use for the orientation of incoming chemical engineering freshmen. We have also discussed Chem-E-Car designs and ideas with the Caltech team to help out.
Tell us a little bit more about the last communication you had with your Sister Chapter.
Caltech: Our Chapter recently has decided to become more involved in AIChE competitions, and so we've decided to enter the Chem-E-Car Competition for the first time. Thankfully, our Sister Chapter has been extremely helpful in showing us the general workflow of designing a Chem-E-Car, and we think we can help each other improve in the years to come.
Have your chapter members ever met in person? Do you have plans to do so in the future?
IITGn: Our former Student Chapter president, Nikhil Roy, met with some of the members of the Caltech AIChE Student Chapter Executive Committee in 2017. Unfortunately, our members have not been able to meet in person since.
What advice do you have for Student Chapters that are thinking about getting involved in the Sister Chapter program?
Caltech: Having a Sister Chapter is a great way to communicate with people from a wide variety of backgrounds, and as long as this communication is maintained, it can be a great learning experience for everyone.
For more information on the Sister Chapter Program, check out its website here. Questions can be sent to AIChESisterChapters@gmail.com.