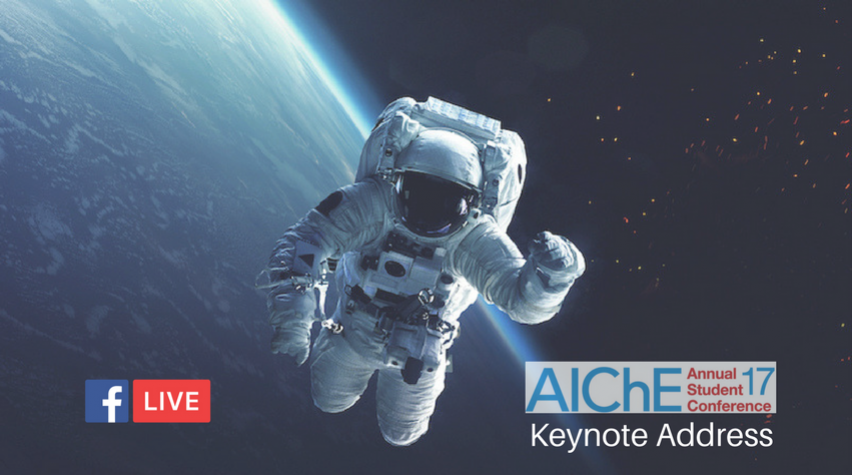 Join us in person or on Facebook LIVE* for this year's Annual Student Conference Keynote on October 28, featuring former NASA astronaut and CEO of Vesalius Ventures, Dr. Bernard Harris.
Dr. Harris will present his talk titled, "Dreams are Power": a former NASA Astronaut describes how education and determination led him to fulfilling his dreams.
Attending in Person?
Here is the rundown of events if you're attending the conference for the morning of Saturday, October 28:
09:30 – 09:35: Student Chapter Committee Chair Welcoming Remarks
09:35 – 09:40: Welcoming Remarks by AIChE Executive Director, June Wispelwey
09:40 – 09:45: Welcoming Remarks by AIChE President, T. Bond Calloway, Jr.
09:45 – 10:15: Keynote Presentation by Dr. Bernard A. Harris, Jr.
10:15 – 10:25: Q&A Session
10:25 – 10:30: Announcements from Young Professionals Committee Chair
10:30 - 10:35: Closing Remarks by Student Chapter Committee Chair
Watching on Facebook Live?
On Saturday, October 28, go to https://www.Facebook.com/chenected at approximately 9:45 AM Central Time U.S. to look for our live broadcast.*
Be sure to subscribe to LIVE notifications once you're there.
About Bernard Harris
Dr. Bernard A. Harris, Jr. is currently Chief Executive Officer and Managing Partner of Vesalius Ventures, Inc., a venture capital firm that invests in early to mid-stage Healthcare technologies and companies. Harris was a Mission Specialist on the Space Shuttle Columbia in 1993 and Payload Commander on Space Shuttle Discovery in 1995. As Payload Commander on Space Shuttle Discovery STS-63 in 1995, he served on the first flight of the joint Russian-American Space Program, becoming the "First African American to walk in Space". A veteran astronaut for over twenty years, he has logged more than 438 hours and traveled over 7.2 million miles in space.
A Word about the Conference
This year the Annual Student Conference is hosted in Minneapolis by the University of Minnesota, Twin Cities student chapter, along with student volunteers from the University of North Dakota student chapter. We expect a big turnout again this year, with registered participants from the across the US and 18 countries. Thanks to the International Student Chapter Leadership Development Travel Grant program, students representing eight of those countries will be joining the conference this year.
Below, you'll find some of the key highlights of the conference. For more details, see this listing of Annual Student Conference events. And if you need help finding a hotel, see this page for hotel information. To make the most of your stay, check out great sites, restaurants, and other attractions to visit on the 150 Things to do in Minneapolis page.
Still undecided? It's not too late to join us! See registration information.
Join the Conversation on Social Media
Be sure to join ChEnected on Twitter @ChEnected and on Facebook at http://www.facebook.com/AIChE
Hashtags: #AIChEStudentConf | #ChemECar
*Note: It is difficult to predict wifi signal conditions. If conditions are poor, the LIVE broadcast will not happen. Instead, we will record the broadcast for posting later.