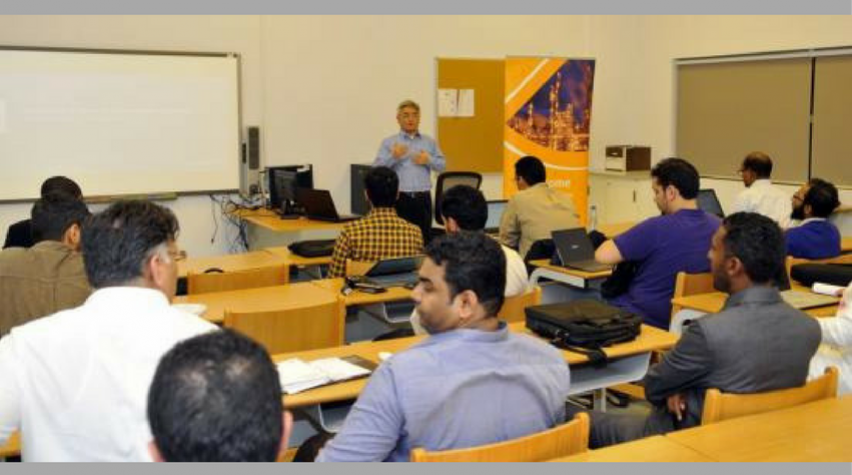 The Saudi Arabian Local Section Young Professional (SAS-YP) team organized a technical workshop on the topic of "Refinery Planning with Aspen PIMS" on February 13, 2017. This was the 6th of a series of technical workshops sponsored and delivered by AspenTech. The SAS-YP team's partnership with AspenTech, a platinum sponsor, aims to improve technology utilization skills to tackle engineering challenges.
Dr. Wei Zhang, a senior engineering consultant at AspenTech with over 15 years of industrial experience, started by motivating young professionals to complement their engineering know-how with state-of-the-art technologies in order to address industry challenges more effectively. Dr. Zhang then demonstrated the capabilities of Aspen Process Industry Modelling System (PIMS) in enhancing profitability of refinery operations.
Mr. Satyadev Susarla, an expert in refinery planning and scheduling with nearly 20 years of industrial experience, engaged the attendees with several hands-on exercises using Aspen PIMS. Mr. Susarla highlighted the potential of such advanced technology solutions in enhancing profit margins of refining and petrochemical processes.
Twenty-six Young Professionals attended the workshop representing major companies and academic institutions in the region, including Saudi Aramco, SABIC, WorleyParsons, Jacobs ZATE, Doosan, Jubail Technical Institute, and King Faisal University. The workshop was delivered by two process optimization experts from AspenTech. The SAS-YP team has increased the number of cohorts by 50% compared to previous workshops. The objective is to accommodate the rising interest among young professionals for hands-on technology training, according to Abdullah Bahamdan, Head of SAS-YP Programming Subcommittee team.
The Jubail Royal Commission, a governmental body responsible for managing the Jubail Industrial Complex, has generously supported the SAS-YP team by providing access to training venues at the Jubail Technical Institute. Fareed Enani, workshop organizer, expressed gratitude to the administration of Jubail Technical Institute on behalf of the SAS-YP team. What's more, this was the first workshop to be organized in Jubail Industrial City, home of one of the largest petrochemical complexes globally. Mohammed Al-Yanbaawi, SAS-YP team chair, stated that "this is another calculated move to widen the circle of YP engagement within the Kingdom."
The workshop culminated in the distribution of certificates of completion as a token of appreciation for attending YPs. For more information about upcoming Saudi YP events, follow them on Twitter @AIChE_Saudi and its Channel on YouTube.
This article was contributed by the SAS-YP Communications Subcommittee Team.