Every year up to eight international students receive a travel grants to come to that year's AIChE Annual Student Conference. This year, I had a chance to interview the grant winners about their experience at the conference, why they decided to become chemical engineers and their plans for the future.
In part 2, I interviewed 2016 grant winners from Colombia, Indonesia, and China.
Javeria Ahmed, Dawood University of Engineering and Technology, Karachi, Pakistan
Stephen Kristiandi, Institut Teknologi Bandung, Indonesia
Madina Rakhimzhanova, Nazarbayev University, Kazakhstan
Eloiza Contreras, National Autonomous University of Hondoras, Honduras
Learn more about their experience watching the interview in the panel above.
The purpose of the International Student Chapter Leadership Development Travel Grant is to facilitate the participation and leadership development of international student chapter members at the Annual Student Conference and to strengthen AIChE's relationship with these future global leaders.
This Award is generously supported by The AIChE Foundation's Doing a World of Good Campaign.
Doing a World of Good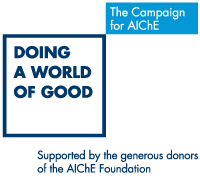 The Doing a World Campaign is the most ambitious fundraising programs in AIChE's history and will drive the profession for decades to come by funding five transformative priorities that advance chemical engineering and bring that expertise to bear in addressing societal needs.
Learn more at www.DoingaWorldofGood.Org