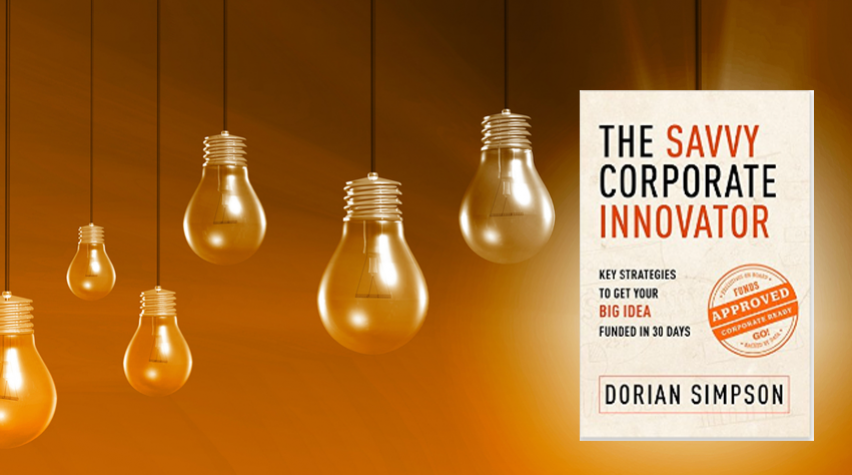 The Savvy Corporate Innovator: Key Strategies to Get Your Big Idea Funded in 30 Days by Dorian Simpson. Kingsley Publishing Group: Portland, OR (2015). 339 + xix pages. US$29.95 (hardback).
Dorian Simpson's new book, The Savvy Corporate Innovator, is directed toward a technical audience. We can all identify with the dilemma presented in this text: how do engineers and scientists get funding and approval to work on a new idea?
The book is organized into four parts. In Part I, four chapters identify and categorize the ecosystems of innovation. For instance, Chapter 1 categorizes innovators themselves according to political skills and execution skills. Chapter 2 introduces the concept of a "30-Day Idea" in which an idea for a new market or technology should be evaluated for alignment with the firm's mission and for size of the value to be delivered. Next, Chapters 3 and 4 describe corporate constraints for innovation funding, and categorizes executive decision-makers according to openness and need for data, respectively.
Part II is a worthwhile section that gives an overview of the funding process from an executive's position. Five chapters in Part II summarize business language and financial metrics that are necessary for a senior executive to evaluate prior to project approval. Chapter 8, "The Forecasting Challenge," is particularly important to understand as an engineer presents his/her ideas for sponsorship. Companies are in business to sell products/services to customers and to make money. Forecasting sales to these customers must be both realistic and optimistic at the same time.
In Part III of The Savvy Corporate Innovator, Simpson presents a 30-day action plan for gathering initial data and garnering early approval for proof-of-concept testing. Without a phased and gated new product development (NPD) process in place, it seems impossible for a firm to repetitively gain success for innovation at this juncture.
Other chapters in Part III (Chapters 10, 15, and 16) offer presentation tips. A key takeaway for engineers, scientists, and technical personnel is to focus funding requests on value and not on technical wizardry. Senior executives know that you are smart and capable of solving technical problems — that's why they hired you in the first place! What they need to hear is that the idea will satisfy a market need and will bring in significant revenue.
Finally, the book concludes with just a single chapter in Part IV describing potential outcomes of a funding request. The request may be approved, modified, or rejected. These decisions do not reflect on the cleverness of the innovator and are not meant to be taken personally. Instead, funding decisions are based on the firm's strategy, market opportunities, and timing.
Throughout The Savvy Corporate Innovator, two fictional case studies are presented to mimic the experiences a first-time innovator may face in requesting corporate funding. These case studies further illustrate the concepts introduced in each chapter. Additionally, each chapter concludes with a short review and "Five Savvy Success Strategies" that can be implemented as a checklist for an engineer or scientist with a big idea.
The Savvy Corporate Innovator is recommended as an introductory text for engineers and scientists navigating executive funding for their ideas. While most firms have procedures and processes in place to facilitate innovation, Simpson's book would be most useful in situations where a firm has no formal staged and gated structure in place.
What is the biggest challenge you have faced in getting corporate sponsorship for an innovative idea?