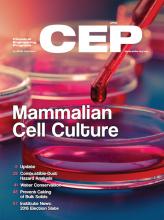 ---
CRITICAL ISSUES
Leveraging Energy Management for Water Conservation
Growing concerns about the availability of clean water are driving companies to include water conservation in their sustainability initiatives. Instead of reinventing the wheel, adapt your energy-management program to water conservation.
SAFETY
Making Sense of Combustible-Dust Hazard Analysis
Several standards on combustible dust contain provisions for conducting process hazard analyses. This article summarizes the requirements and presents a simple approach to meet them.
BACK TO BASICS
An Introduction to Mammalian Cell Culture
Mammalian cell culture is at the core of biomanufacturing therapeutic proteins and viral vaccines. Find out how mammalian cells are derived and cultivated, and what opportunities this field holds.
FLUIDS AND SOLIDS HANDLING
Prevent Caking of Bulk Solids
Understanding the mechanisms behind caking, identifying key process variables and product specifications, and testing samples to predict the increase in cohesive strength of a powder over time are key to preventing and solving caking problems.
Update
Human-Size Tissues Roll Off the Printer
New Process Steps Up the Value of CO2
Stretchy Sensor Emits Light, Too
Person-on-a-Chip: Artificial Organs for Drug Testing
Bacteria Capture RNA Snapshots with CRISPR
Bandage Speeds Up Healing and Kills Bacteria
Single-Step Route Produces Dilute H202
Engineered Yeast Churn Out Synthetic PLGA
Plus
Technical Entity Trends: Biomolecular Engineering: Little Bio Machinery to Solve Grand Challenges
Catalyzing Commercialization: Particle-Free Conductive Inks for Better Printed Electronics
Process Safety Beacon: Plugged Flame Arrester Causes Explosion
Material Matters: Disappearing Materials in Aging Plants
Profile: Annie Meier: Improving Earth and Reaching for Mars
Career Corner: Transitioning to a Career in Sales Engineering
Expo Preview: Offshore Technology Conference (OTC)
Product Focus: Safety Equipment
Books
Calendars
Institute News

Candidates Announced for 2016 AIChE Election
AIChE Elects New Fellows
AIChE Foundation Names Co-Chairs for Doing a World of Good Campaign
Nomination Deadline Extended for Energy and Sustainability Award
Your AIChE Membership: eLibrary
Member News
The April 2016 issue of CEP is now available online. AIChE members receive access to CEP, including a searchable archive of issues dating back to 2001, online at http://www.aiche.org/cep.