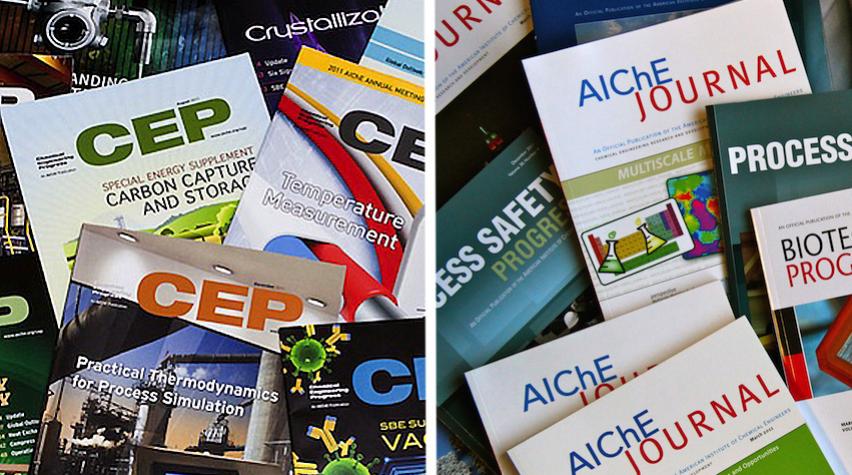 Your AIChE membership gives you easy and affordable access to a variety of useful publications and news sources that keep you up to date in the field and provide practical tips that you can apply to your career.
I'm sure you're used to getting a new issue of CEP every month in the mail. You may not have realized, however, that the magazine is also available to you online so it can be easily accessed on the go. In fact, there's an entire archive of CEP issues there dating all the way back to 2001. You can search articles on a specific topic or just browse each full issue.
If you'd like to delve further to learn about the latest groundbreaking research in chemical engineering, there's the AIChE Journal, which is published in partnership with John Wiley & Sons. Members receive subscription discounts of up to 85 percent. There are also several other topic-focused journals including Environmental Progress on Sustainable Energy, Process Safety Progress and, in partnership with AIChE's technological community, Society of Biological Engineering (SBE), Biotechnology Progress.
To kick off 2016, AIChE/SBE and Wiley are partnering once again to deliver an exciting new journal called Bioengineering and Translational Medicine. The quarterly will focus on the fundamental ways chemical and biological engineering approaches drive and provide innovative technologies and solutions that shape clinical practice and/or commercial healthcare products.
Lastly, members also can take advantage of a free news service called SmartBrief. It's a digest that's delivered to your e-mail inbox every Tuesday and summarizes all of the latest and most important business and technology news affecting chemical engineers, along with alerts on the latest job openings. It's easy to sign up.
We hope you make the most of all of the news and information that's available to you as an AIChE member. If you have any questions about publications or other member benefits, please contact me.