Energy insecurity may be the world's greatest sales tool to encourage infrastructure impulse shopping. While many oil and gas producers are canceling projects to cope with low prices, a new sector has emerged, offering to quickly boost a country's energy production with that cheap gas. And business is booming.
Floating Storage and Regasification Units (FSRUs), a relatively new seaborne technology, have offered countries from Lithuania to Egypt a way to avoid destabilizing power shortages by importing liquefied natural gas (LNG).
For only $300 million — half the cost of a land-based terminal — a 1,000-foot vessel equipped with regasification technology moors conveniently offshore, takes LNG transferred from arriving tankers, and converts it into a turbine-friendly gas, which is then sent onshore to generate electricity. The concept was adapted from the oil business, where floating production, storage, and offloading vessels have been used since 1970s. It has become an important part of the growing globalization of natural gas.
Energy independence
Lithuania's testy 25 year relationship with Russia has been totally transformed by leasing the FSRU it christened Independence. When it docked in Lithuania last fall, citizens celebrated its arrival like it was the small country's independence from Russia all over again.
Although technically free from Russia, the country had to wait 25 years until before it could regain control over its own energy production. Although Gazprom had given back Lithuania's natural gas network, both countries were still too enmeshed, with households and businesses routinely paying more for Russian gas than Baltic neighbors Latvia and Estonia.
Lithuania had also warily watched for years as Putin's empire of chaos used Gazprom as a blunt object, which he wielded with impunity. Taking a page from the petro-monoplolist's playbook, Putin had cavalierly jacked up the cost of downstream energy for the EU after he shut off the gas during a spat with the Ukraine.
Dockside, speaking to cheering crowds, Dalia Grybauskaite, the Lithuanian president said, "We have become an energy-secure country." She added that as much as the LNG terminal was an important energy project, it was a geopolitical project ensuring the goal of energy independence.
Floating behind the president in the harbor, the ship represented a challenge to Russia's way of doing business, while the rest of the EU impotently remained collateral damage from Putin's gas pipeline hegemony.
Grybauskaite finished her speech by triumphantly telling the crowd that US shale gas could arrive on Lithuania's shore in two or three years.
Today Norway's Statoil delivers 540 million angst-free cubic meters of gas a year so the Independence can output 80 to 90% of the Baltic region's demand, which includes neighbors Latvia and Estonia.
Lithuanian officials later revealed that they turned the tables on Russia and forced Gazprom to the bargaining table — a man-bites-dog happy ending — persuading the exporter to shave 20 percent off its prices.
New buyers
As natural gas prices took a nose dive from last year's highs, it attracted so many new buyers that 55 South Korean-built FSRUs will be plugged into national pipeline grids within 5 years, up from 20 now and just one a decade ago.
"Demand follows the cost of LNG," Sveinung Stohle, CEO of Hoegh, a busy FSRU leasing company, told Bloomberg. "This has caused a very strong increase in requests."
LNG will probably trade at $6 to $8 per million BTUs with demand wilting in Japan, South Korea and China. That's a big drop from 2011, when prices jumped 72 percent and peaked at $19.70, as Japan shut its reactors after Fukushima.
As buyers rush to choose larger and larger vessels, the cost to build them will probably more than double in 2017, from $96 per metric ton last year, according to the International Gas Union, a lobby group of energy companies in 91 countries. But that still handily beats last year's $212 per ton for a new onshore LNG terminal, which will peak around $350 a ton in 2016.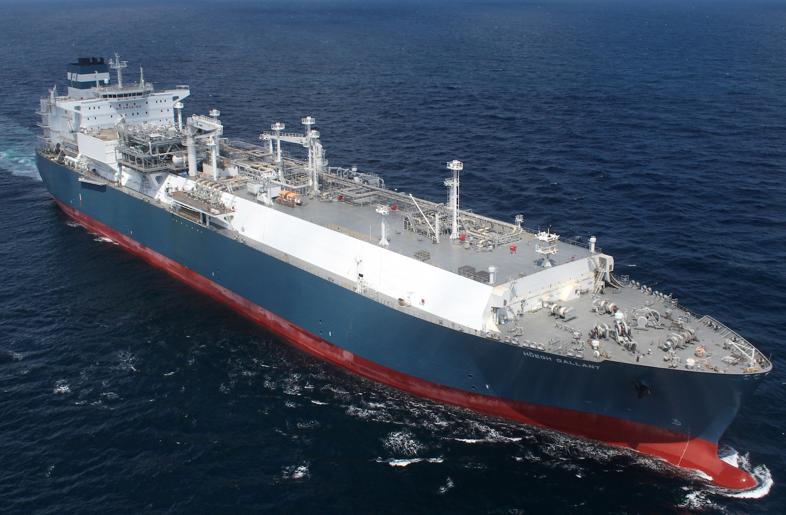 ---
New customers included Jordan, which hooked up its first FSRU in May, and Pakistan in March. Egypt was a gas exporter until last year, but to face the country's battle with power shortages, imports began in April through the Hoegh Gallant, moored in the Red Sea port of Ain Sokhna. The vessel imports enough gas to meet 10 percent of the nation's annual demand.
Egypt, which now receives four to five LNG cargoes a month, will dock a second FSRU by this fall and plans to lease a third unit next year.
Is LNG technology evolving as quickly as renewables?
Photos: FSRUs, Hoegh