Royal Dutch Shell has just introduced a motor oil made from natural gas using the proprietary PurePlus Technology at it's Pearl Gas-to-Liquids facility in Qatar.
Armed with 3,500 patents, the Shell Middle Distillate Synthesis (SMDS) process at the heart of the Pearl GTL plant was developed over more than three decades and proven at Shell's 14,700-barrel-per-day Bintulu GTL plant in Malaysia. (press release) At the beginning of a long global supply chain, Shell converts natural gas into a clear base oil, the main component of motor oil, before it's shipped worldwide to lubricant blending plants. For the US market, Pennzoil, a division of Shell, then adds its own unique Active Cleansing Agents into the clear GTL-derived base oil to create Pennzoil Platinum. Since typical base oil is derived from crude oil, Shell's natural gas base oil has a big advantage. It's cheaper. A video about the Pearl plant, above.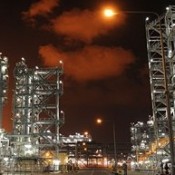 Canceling a home-grown GTL plant
Given the low natural gas prices in the US, it came as a surprise last December when Shell aborted plans to build a multibillion-dollar GTL plant in Louisiana. The company cited rising costs, which had jumped to $20 billion from $12.5 billion in September when Shell selected the site near Baton Rouge (press release). The quick two month about-face caused a flurry of speculation. Most analysts thought Shell got cold feet after seeing so many energy projects queued up on the Gulf Coast - pipelines, petrochemical plants and port expansions - all which drove up the cost of labor and raw materials. In addition to high construction costs, the margins on the natural gas feedstock were projected to be too low, said spokeswoman Kimberly Windon. At the time, Shell CEO Peter Voser also said that the company was having to make tough choices as it retrenched in North America to bolster profitability. According to Fuelfix, a big difference between the Qatari and US projects was that Shell produces and owns all of the natural gas it uses at the Pearl facility but would have had to buy it from the US grid to supply the canceled project, while facing strong uncertainty over future energy prices. Since turning natural gas into liquids requires low prices to compete with US refiners using crude oil, and with the federal government having already approved six natural gas export terminals, prices looked set to rise in the future. At the same time, increasing amounts of oil gushing from busy fields in Texas and North Dakota could cause the price of oil to fall.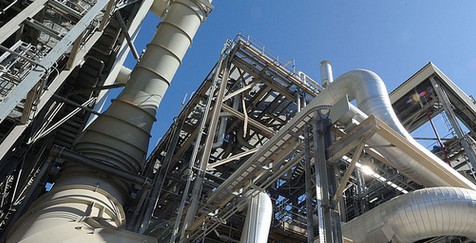 The prospect of lower oil prices and a slow but steady increase in future natural gas prices became the probable cause for the abrupt bailout, Fadel Gheit, an analyst with Oppenheimer & Co, told the Wall Street Journal. "The decision underscores the fact that (current) oil prices are inflated and gas prices are depressed, and a slight reversal in the prices of the two commodities could have a significant negative impact." But one analyst, Peter Gardet, founder of Breaking Energy, felt that the suddenness of the cancellation - after years in the consideration - had another cause. He argued that "uncertainty has been in play for several years now, and project forecasts from oil companies are not developed in a scattershot way." For example, future LNG exports were already well known, and he thought that "it was some situation on the ground that most likely caused such a speedy retreat from such a high-profile project."
Sasol to stay the course
So instead of assuming that Louisiana had gone south in just eight weeks, Gardet, admittedly, speculated about legal and regulatory risk. "With governments at the national, state and local level targeting BP... and courts doing little to hold back the swelling lawsuit docket... lawyers and executives at Shell may have taken another look at their legal reserves and their regulatory exposure to any problems in the Gulf." But to further complicate speculation, South Africa's Sasol, the largest producer of motor fuel from coal, had also announced plans to build a $14 billion gas-to-liquids plant in Louisiana, and hasn't changed those plans yet. "While we cannot speak to another company's plans," Russell Johnson, a spokesman for Johannesburg-based Sasol, said, "we continue to view our proposed GTL facility in Louisiana as a very attractive opportunity as we advance it through the front-end engineering and design phase."
Overlooking Shell's new CEO
At the time the US project was dropped, no one mentioned that Shell was also going through a CEO transition. Like Peter Voser, who announced the cancellation before he left the company, Ben van Beurden, who took over on January 1st, 2014, is from the downstream part of the business. But, according to Reuters, his immediate liability was that he wasn't widely known outside the company and lacked board-level experience. So you could speculate that Voser had to take public responsibility for such a big decision, and lump that with all of the other speculation. Admittedly, van Beurden, according to Reuters, now faces his own battle to control costs while replacing reserves (press release). And his background is prefect for the task. He became head of refining, marketing and chemicals in January 2013, after spending a decade in the liquefied natural gas (LNG) industry. Earlier in his career at Shell, he was the operations manager of Malaysia LNG, where the gas-to-base-oil process was perfected. Thanks to his previous experience in LNG, clearly van Beurden represents a continuation of Voser's vision of Shell's future as a business in the forefront of oil and gas technology, where Shell has become the acknowledged industry leader.
Photos: various, Shell