By Jason Huang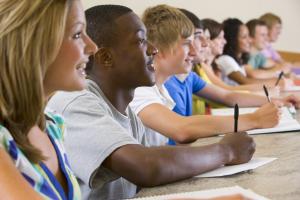 The goal of my project for the AIChE Apprentice program is to provide local high school senior/junior students a general description of chemical engineering. I scheduled a 40-minute presentation to the high school students and prepared to present on the topic of "What can chemical engineers do?"
The talk was planned to cover a variety of chemical engineering applications, including petroleum technology, material research and development, the food industry, biotechnology, and pharmaceutical engineering. After an extensive background study, I decided to include the following examples for my presentation:
Flow assurance in the oil and gas industry
Catalyst design for the automotive industry
Design of advanced materials for flexible display
DNA/protein detections with nano-particles
After coordinating with the school teachers, I learned that the students who would come to my presentation are mostly juniors/seniors from the school science club and who have taken a few AP classes. To tap their previous knowledge of basic science while creating a connection with the students, I tried to reference their basic knowledge of physics, chemistry and biology with my examples, such as the gas law, reaction kinetics, the structure of a DNA molecule, etc. I also kept each example very brief and reminded myself that the goal of the presentation was not to teach or to go over what they had learned, but to instead use the key words to let them know that sometimes the seemingly "boring" equations/theories in the book could actually be very helpful in our life.
What are the potential career paths for chemical engineers?
Here, I discussed several post-college options, such as industry, graduate school, medical school, law school, business administration, etc. The potential career paths for these options were introduced including teaching, research, and development, process and project management, law, sales, and marketing. I also emphasized that these are general career paths, but that the path could be very different for everyone. I also explained that as a young engineer, I am in the process of defining my own career path and I think it is always good to learn something new.
What should chemical engineers learn?
To cover this topic, I discussed with the students some basics of chemical engineering classes, including thermodynamics, transport phenomena, and reaction engineering. I summarized what one can do after taking these classes and I shared some of my teaching/studying experience with the students to let them know that being proactive and thinking critically can take them a long way.
There was also about 10 minutes of Q&A where more practical and personal questions were asked, such as choosing a schools and the difference between academia and industry. I shared my perspectives while highlighting the fact that others might have different views.
Assessing outcome
To determine the outcome of the presentation, I designed a survey for the students to fill out after the presentation. With a few multiple choices, I asked the students to evaluate both content and presentation. I also asked the students if they felt more interested in becoming a chemical engineer or more confidence about this career option, and if they have any suggestions to help me improve my presentation. It was very rewarding for me to find out that the most of students felt that the examples were interesting and easily understood, and that my personal experience was helpful for them as well. They told me that they liked the humor that I applied in my presentation, and one of them actually encouraged me "not to be afraid to make even more jokes."
I have always loved teaching and I felt really fortunate that I had such an opportunity to profit from the young apprentice program by talking to the students, to understand them, and to hopefully make an impact on their lives.
If you'd like to see Jason's presentation, you can download part 1 here and download part 2 here.