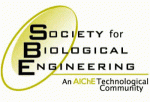 This post is presented by SBE, the Society for Biological Engineering, a global organization of leading engineers and scientists dedicated to advancing the integration of biology with engineering.
Congratulations to Kyle Lampe of Stanford University for being the winner of the poster session at SBE's 6th International Conference on Bioengineering and Nanotechnology (ICBN), which was held on June 24-27, 2012 at the University of California at Berkeley. Kyle's winning poster was titled "A Bioresponsive and Bioinstructive Protein-Engineered Hydrogel for 3D Cell Encapsulation and Neurite Growth."
The conference was co-chaired by Luke Lee (University of California, Berkeley) and Matthew Tirrell (University of Chicago) pictured below.