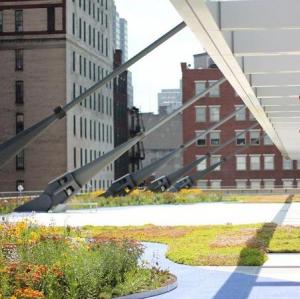 The 2012 Annual Meeting has the tagline of "Cleaner Energy, Stronger Economy, Better Living," but what exactly does that have to do with Pittsburgh?
Pittsburgh, previously a booming industrial city, was once described as "hell with the lid off" by writer James Parton, due to the excessive smog created by steel production. When the steel industry eventually collapsed in the 1970s, Pittsburgh's economy was left in shambles and the city in need of a revitalization plan. In the following decades, Pittsburgh has strived to build a green economy by reducing the city's energy demands and lowering global warming emissions.
The First Green Convention Center
The David L. Lawrence Convention Center (DLCC), where the 2012 Annual Meeting will be held, was awarded Platinum LEED certification in May 2012 due to its design and green initiatives. This makes it the first and only convention center in the world to have both a Gold LEED certification for new construction and a Platinum certification as an existing building.
The Convention Center's roof is perhaps the most impressive part of the building. Its curved structure, built using suspension cables, allows for a natural circulation pattern which is used by the building's ventilation system whenever outdoor temperatures are between 45 and 64 degrees. The use of strategically placed windows and the lack of steel structural columns allows for the exhibition hall and 75% of the remaining space to be naturally lit. The Convention Center's also boasts a 20,000 square-foot green roof featuring local plants, flowers, and grasses. Finally, the highly reflective roof cover radiates seven times less heat than a parking lot of the same size, reducing the urban heat island effect.
The David L. Lawrence Convention Center's comprehensive recycling program not only targets plastic, aluminum and paper, but also cardboard, wood and electronic waste. Unused food is donated, and food scraps and landscaping waste are composted. The Center also boasts an on-site graywater treatment facility which filters and treats the building's wastewaters for uses that do not require potable water.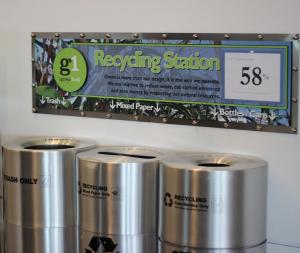 It's more than just the Convention Center
This is all only a small part of what makes Pittsburgh "green." The City of Pittsburgh replaced all traffic signal bulbs with LEDs and conducted a study on energy efficient streetlights. Pittsburgh currently has 39 LEED-certified buildings and 60 projects pursuing LEED certification.
Investing in a green economy has attracted businesses and created thousands of jobs in the Pittsburgh area, proving that sustainable growth and a strong economy are not mutually exclusive.
Learn more on the David L. Lawrence Convention Center's green design.
Read about the City of Pittsburgh's energy initiatives.
Learn more about the 2012 Annual Meeting.