Water scarcity is a global problem that can no longer be ignored. In the Middle East, while wealthy countries like Israel and Saudi Arabia constantly add new desalination plants to keep up with growing demand, poor countries like Yemen are on the verge of collapse as aquifers begin to run dry. Having already constructed 22 solar desalination plants, Abu Dhabi, which borders Saudi Arabia and the Gulf of Oman, has invited Eole Water, a small French-based company, to test a water-generating wind turbine. Tests on the ground-mounted prototype began in October, and it is already producing 500 to 800 liters of drinking water a day from the dry desert air. But Eole Water believes the volume can be increased to well over 1,000 liters when the turbine is placed on a base-mounted system, increasing the wind speed. "In Abu Dhabi we have shown that we can produce large volumes of water from air with 15-20% humidity, so this is a good proof of the technology," Eole marketing director Thibault Janin told Rechargenews.
Inspired by a hotel room air conditioner
Although Eole Water was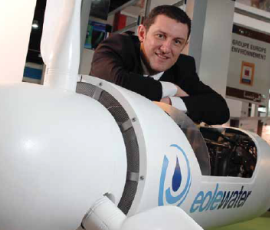 founded in 2008, the original idea came to founder Marc Parent in 1997, when he was living in the Caribbean and working as an engineer. At the time, he didn't have access to fresh water and he was tired of drinking bottled water, so he decided to collect the condensation from his air conditioner. This system worked so well, he later coupled the concept with a wind turbine, hoping to market it to communities off the grid. Watch a short video shot at Eole's research center in southern France.
How the turbine works
The 30-kW water-generating turbine features a 13-meter-diameter rotor set at a hub height of 24 meters. Its 12-ton nacelle houses a direct-drive permanent-magnet generator protected by sand-shutters, cooling compressors, stainless-steel humidity condensers, an airflow regulator and a heat exchanger. To collect water, wind enters through the nose cone intake vents and is heated by the turbine-powered generator into steam. The remaining hot air is blown out of the nacelle by a heat exchanger and air extractor.
Next the steam is compressed, causing moisture to collect. It's then condensed into water and sent through pipes down the turbine tower and into stainless steel tanks for filtration and purification. Along with the 1,000 liters of drinking water that will be produced per day, the turbine generates 30kW of electricity to move the water to the storage tanks and power the purification system. Efficiency rates of 50% have been reached with the prototype.
Trying to avert disaster
"In the Middle East the interest is mainly in what the technology can do for remote communities," Janin added to Rechargenews. Janin points to OECD figures that suggest investment of $10bn a year is needed to halve the number of people in developing nations who do not have access to drinking water - which in turn could create an economic boost of $38bn in such areas. "But, with our system, we believe we have something that will help normal people have the means to do something to avert a crisis that could be only five or ten years off."