We recently caught up with Amanda Robbens, vice chair of the Local Sections Committee and Virtual Local Section, to discuss the upcoming Local Section Leadership Workshop, which will take place before the Spring Meeting in Houston (more details below).
Amanda also shared some thoughts with us about how Local Sections work and how they can help enrich and advance AIChE members' careers. Here's what Amanda shared:
Could you tell us what the LSLW aims to accomplish?
The purpose of the Local Section Leadership Workshop (LSLW) is to facilitate bringing Local Section (LS) leaders together to share their concerns and successes with other LS leaders. Many Local Sections face the same issues, so having the opportunity to network with other LS leaders and share ideas allows leaders to better serve their members. The LSLW will be an interactive workshop where LS leaders can work together to work through issues they are facing in their LS.
And what role do Local Sections play for AIChE members?
Local Sections are one of the foundations of AIChE. An important factor I have found for belonging and being involved with AIChE is the ability to network with other chemical engineers and build a support network. The local sections are the main avenue within AIChE to make those connections with other chemical engineers.
Who determines Local Sections' activities and programs?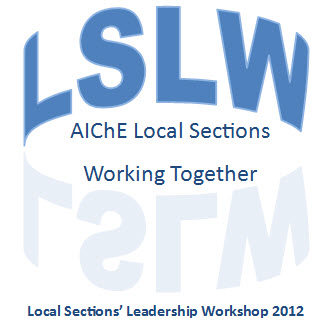 Local Sections don't influence AIChE members as much as AIChE members influence the Local Section. Each local section caters to the engineers in that area. The technical topics given at meetings will be chosen based on the industry in the area and the interest of the local members. Local members also determine the type of social events they feel will best foster networking. That is the great thing about local sections being run by local members. There are common themes among all the local sections, but each is tailored for that area and its members.
How has your involvement with Local Sections helped your career?
Being involved with AIChE Local Sections has helped me in many ways. The leadership skills I have developed through my involvement with local sections have served well in my career. Even though it is a different environment, the skills learned working with AIChE are transferable to my job, especially when I need to lead a team. It has also given me the opportunity to build a network. A network is not just for job searches (although it is helpful then too!). The network I have built (and continue to build) within AIChE provides people I can go to with questions about eng
ineering, leadership, or career choices. It is just as beneficial to help other people within my network as it is to receive help.
Attend the next LSLW
The LSLW is being held the weekend before the Spring Meeting, March 31- April 1 at the University of Houston. A tentative program can be found here. Also, travel grants are being offered to struggling local sections interested in attending the LSLW. Click here for applications.