Indian plastics is a major growth industry, currently satisfying 4 percent of world demand, while growing prodigiously 12 percent a year. But the country's universities don't graduate enough engineers to keep up with demand, creating a major bottleneck to future growth. So, the Plastindia Foundation, India's largest plastics trade organization, has partnered with UMass Lowell (press release) and the UWisconsin-Madison (press release) to help build a world-class university for polymer technology and processing in western India. An agreement was signed between Mr. Ashok Kumar Goel, President, Plastindia Foundation, Professor Nick Schott, University of Massachusetts-Lowell, and Tim Osswald, University of Wisconsin-Madison, in New Delhi.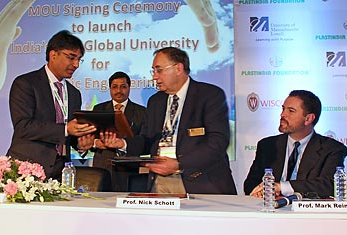 Mr. Ashok Kumar Goel and Professor Nick Schott
The seeds of a stronger Indian plastics industry
The Mumbai-based foundation will donate about $6 million as seed capital for the project, which is estimated to cost $30 million; the rest will be raised from contributions from local and overseas Indian plastics companies. Expected to break ground later in 2012 and open within three years, Plastindia International University (PIU) will be located in the city of Vapi, Gujarat state, one of the largest plastics manufacturing regions in India. When it opens it will educate and train up to 1,200 students a year in engineering, industrial research, project management and entrepreneurship.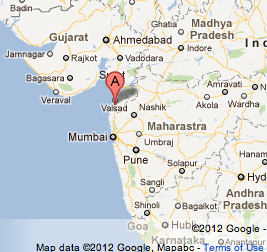 Strengthening deep ties between countries
The foundation sought unparalleled plastics industry expertise from UMass, Lowell, and UW-Madison, says Bipin M. Shah, vice president of the PlastIndia Foundation. Mr. Shah, who represents the deep ties between the two countries, trained as a chemical engineer in plastic processing in the United States. "The contributions by your esteemed universities in the field of polymer engineering are second to none," says Shah. "India needs education from very pre-emminent scholars for continuous growth, where hands-on training as well as processing knowledge of polymers is a must. UW-Madison, as well as UMass, Lowell, would be a very complementary combination."

Plastindia officials said they partnered with US universities, rather than Indian schools, because India produces graduates with theoretical knowledge, but lacking crucial practical experience. "I don't get anyone straight out university with practical experience," said Herman Minocha, director of masterbatch maker Rajiv Industries and a 1998 graduate of UMass, Lowell. "The kind of exposure we got from UMass, there is nothing that equals that." (You'll understand why UMass can turn out students with practical experience when you check out this interactive map of its plastics labs.) "It's fun to see progress of plastics education around the world," Tim Osswald, co-director of Wisconsin's Polymer Engineering Center, told Plastics News. "Both Massachusetts and UW-Madison are well positioned to contribute to the effort."
A pipeline for US graduate schools
The US universities will also benefit from the relationship. "We hope our collaboration with Plastindia will ultimately draw more students to UMass Lowell," said Schott. "We hope to have a pipeline of graduate students coming to UMass Lowell after finishing their undergraduate studies at PIU. Combined bachelor's/master's degree programs will also be explored." The UMass Lowell program already has about 450 alumni in India.

Wisconsin's Osswald agrees, saying that as a result, UW-Madison graduates will enter the profession knowing how the plastics industry in India works. "A really important aspect of our education here is to create graduates who can think globally," he says. "And that's going to be beneficial to our industry and our economy." Short Osswald video talking about new lab space.) Rather than view the Indian plastics industry as competition, a variety of U.S. industries could support and benefit from its growth, says Osswald. While one barrier India faces is the lack of plastics engineers, it also must replace outdated equipment, operate manufacturing facilities in environmentally sustainable ways, and generate enough energy to fuel the industry as a whole. "There's going to be business on both sides," says Osswald. "We will benefit from India having a strong plastics industry."