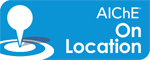 ChemE Jeopardy took place from 4:30 to 6:30 at the 2011 AIChE Student Conference. The nine participating teams were split into three rooms as answered questions from the categories listed below.
About AIChE
Material/Energy Balances
Fluids
Heat/Mass Transfer
Thermodynamics
Separations
Reaction Engineering
Process Control
Materials
Chemistry
Other general / grab bag categories
Room A Winners - Stevens Institute of Technology
Room B Winners - University of Minnesota
Room C Winners - University of Nebraska
Slideshow ChemE Jeopardy
UPDATE: The Winner of Final Jeopardy was Nebraska!
Give it a try yourself. Put your answer in the comments.

According to degree of freedom analysis, a system is solvable if the number of unknown variables equals this.
Related articles