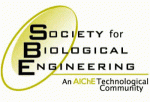 This post is presented by SBE, the Society for Biological Engineering--a global organization of leading engineers and scientists dedicated to advancing the integration of biology with engineering.
Need to understand biofuels better? Thanks to an exhibit called Science in American Life at the National Museum of Natural History, you can. In this video, you'll meet four researchers who will acquaint you with the basics of biotechnology as it relates to health, agriculture, genetics, and fuel. Via SmithsonianAmericanHistory: This video features interviews with four leading scientists in biotechnology who tell us what drew them to the field:
Dr. Pardis Sabeti, Assistant Professor of Organismic and Evolutionary Biology, Harvard University
Dr. Jay Keasling, Chief Executive Officer, Joint BioEnergy Institute, U.S. Department of Energy
Dr. Karen Nelson, Director, Rockville, Maryland, Campus of the J. Craig Venter Institute
Dr. Robert Fraley, Executive Vice President and Chief Technology Officer, Monsanto Company
Note: A version of this video is available in the "Science in American Life" exhibition at the National Museum of American History.