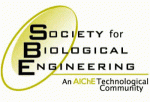 This post is presented by SBE, the Society for Biological Engineering--a global organization of leading engineers and scientists dedicated to advancing the integration of biology with engineering.
Departing Morristown, NJ, and arriving at Paris-Le Bourget Airport seven hours later, a Honeywell corporate jet became the first aircraft to fly from North America to Europe on a 50/50 blend of Honeywell Green Jet Fuel and standard jet fuel. Honeywell, symbolically framing the flight's significance, had their pilot follow Charles Lindbergh's solo flight across the Atlantic--a perfect beginning for this year's Paris Air Show. Importantly, Honeywell hadn't altered the Gulfsteam G450's engines. "Absolutely no noticeable difference at all, no difference at all...all the engine measurements were identical," pilot Ron Weight told Euronews after the flight. (Click to see video). Honeywell also said that the flight saved about 5.5 metric tons of CO2. Two days later, a Boeing 747, using a 15% Honeywell biofuel blend, also touched down and landed in Paris, making it the first transatlantic flight by a commercial jet. Perhaps more importantly, this was the first flight using a biofuel blend in all four engines. In the past, both as a safety precaution and as way to compare engine and fuel performance, jets would fly with only one biofuel-blended engine. Both transatlantic flights used a camelina-derived biofuel grown and harvested in Montana by Sustainable Oils and then processed by Honeywell. Watch a Boeing corporate video about the flight, above.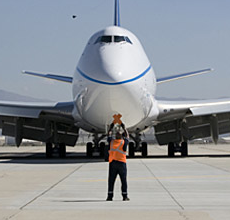 Biofuels Digest reported:
Honeywell said it has now produced more than 700,000 gallons of Honeywell Green Jet Fuel from sustainable, inedible sources such as camelina, jatropha and algae for use in commercial and military testing. "In each of the 16 biofuel flights conducted to date, Honeywell Green Jet Fuel proved that it meets all specifications for flight on military and commercial platforms without any modification to the aircraft or engines," the company crowed.
European airlines will begin regular flights
Also coinciding with the Air Show, KLM Royal Dutch Airlines announced regular flights with a biofuel-petroleum blend on Amsterdam-to-Paris runs would start in September. Lufthansa might beat it by a month under previously announced Frankfurt-Hamburg flights. KLM and Lufthansa plan to use hydroprocessed oils as their biofuel source. KLM's will be produced from waste cooking oil by Dynamic Fuels, the Geismar, Louisiana-based joint venture of Tyson Foods and process developer Syntroleum. Finnish refiner Neste Oil will supply Lufthansa's biofuel blend by hydroprocessing oils from an as-yet-undisclosed feedstock that Lufthansa says will be "sustainable."
ASTM International certification allowed commercial biofuel flights
These regularly scheduled operations are ready to scale up because of certification by standards body ASTM International allowing aviation biofuels to shift to commercial service. While U.S. airlines have yet to announce any biofuels-based flights, they are promising to do so soon. Still, aviation biofuels still face a big hurdle: their price is still higher than conventional fuel. Fortunately, many analysts think they can decline to a competitive level by 2013. Boeing's preflight press release.