On June 18th, 24 members and guests of the AIChE took a tour of the Croton Water Treatment Facility at Mosholu. The group included 6 student members representing NYU-Polytechnic, City College, SUNY Buffalo and SUNY-Cornell. Click or on the photo to see a larger version.
The tour was led by Ed Barboe of Hazen & Sawyer who was assisted by Kristin Barrett and Ron Hill, also of Hazen & Sawyer. The Water Treatment facility, when completed and operational, will clarify and filter NYC drinking water from the Croton system of reservoirs and will treat up to 290 million gallons of water daily. It will also disinfect the water using both UV light and hypochlorite injection.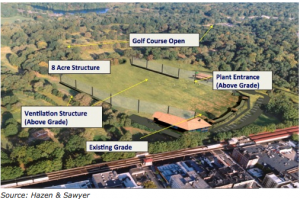 The facility is all constructed below grade on a site within Van Cortland Park that is home to a golf driving range, which will be restored on the roof of the water treatment plant once it's completed.
The group photo was taken on the plant roof. Between the roof and the new driving range will be a semi-permeable membrane and collection system for collecting rainwater.
The plant is built within an underground "bath tub" that has been designed to withstand both hydraulic forces and seismic forces. That "bath tub" is approximately the size of Yankee Stadium (in three dimensions) and is packed with equipment and piping. The facility is about 70% complete with all of the mechanical systems fully installed.
AIChE members were given an overview of the treatment processes in the conference room followed by a tour of the facilities. We wish to express our gratitude to both Hazen & Sawyer and the NYC-DEP for a very informative tour.