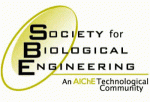 This post is presented by SBE, the Society for Biological Engineering--a global organization of leading engineers and scientists dedicated to advancing the integration of biology with engineering.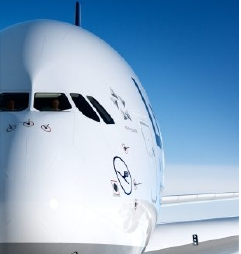 Commercial aviation just reached an important milestone. Germany's Lufthansa Airlines has announced they will begin using a biofuel blend for regularly scheduled passenger service starting in April. This six-month trial on Hamburg to Frankfurt flights is part of a long-term study of a 50-50 biofuel blend on flight performance, maintenance and engine life. One caveat: only one of the two engines will use the blend; the other will still rely on pure jet fuel. During this trial run:
Lufthansa will save around 1,500 tons of CO2 emissions, said Lufthansa Chief Wolfgang Mayrhuber in Berlin today.
Hopefully, this is the beginning of a successful industry-wide transition to second-generation biofuels that will reduce costs and remove the carbon-footprint stigma. Since aviation is responsible for 2

percent of total greenhouse emissions, air travel could again become (give or take 40 years) guilt-free, rescuing it from its beleaguered status as the dread poster-child of the George Clooney film, Up in the Air:

Come fly with me, let's fly, let's fly away
If you can use some exotic booze
There's a bar in far Bombay
Come fly with me, let's fly, let's fly away...
OK, Frank Sinatra, a very satisfied Lear jet owner in the 60's (who seduced Mia Farrow on one of its plush banquettes), won't be belting out ecstatic techno-innuendos any time soon, but a dark cloud, a post fuel-price-spike funerial pall few airlines escaped, is starting to lift from the industry. And early biofuel flight testing success is part of the reason.
Although there were no specifics about Lufthansa's fuel, CEO Wolfgang Mayrhuber singularly stressed, "our fuel is sustainable. No rain forest will be deforested for Lufthansa's biofuel..."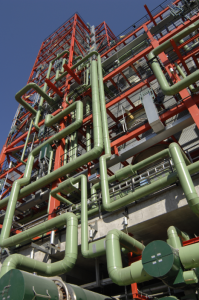 Lufthana's biofuel producer Neste Oil is a Finnish refining company. Poking around the corporate website reveals that jatropha and palm oils are probably essential feedstocks for their proprietary jet fuel NExBTL hydrogenization technology.
"We're very proud of the fact that our NExBTL technology is capable of meeting aviation needs," says Matti Lievonen, Neste Oil's President and CEO. "Aviation fuels are covered by very strict quality standards, and our NExBTL technology has proved that it can produce a fuel meeting these standards."
Click to read the Neste press release.
Lufthansa's announcement follows 18 busy months of primarily flight-crew-only biofuel test flights by the U.S.'s Continental, Britain's Virgin Atlantic and Brazil's TAM. Dutch airline KLM claimed the first biofuel passenger flight, carrrying 40 people, including journalists, politicians and the director of the Dutch Wildlife Fund for a short hourlong flight in 2009.
On November 23, TAM airlines, Brazil's largest carrier, conducted the first test flight using a jatropha-based second-generation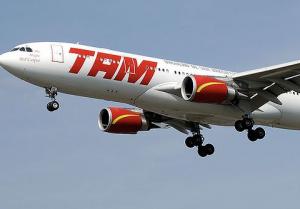 biofuel. This was a joint project between TAM and Airbus using General Electric's energy efficient jet engines. The short 45-minute flight went from Rio de Janeiro's Antonio Carlos Jobim International Airport and back, carrying 20 employees.
TAM is helping to create a production logistics chain for Brazilian-based jatropha fuel. Libano Barroso, TAM president, said the airline hopes to create a platform for sustainable bio-kerosene.
Jatropha vegetable oil is produced from the seeds of the Jatropha Curcas, a plant that can grow in warm climates on land inhospitable to other agriculture. Proponents claim that it produces higher yields than other biofuels with far fewer carbon emissions than fossil fuel. But jatropha's scalability hasn't been determined because it's still being domesticated. If TAM's project is successful, the output will be for the exclusive use of the aviation industry. (An earlier post explored three Brazilian sugar companies working with American research start-ups to develop car and airline drop-in fuels).
TAM's ambitious plans coincide with a November announcement from Bunge, one of the world's largest global agribusinesses, with South American roots. Bunge has recently joined forces with SG Biofuels, a San Diego based jatropha seed developer and breeder. Through the partnership with Bunge, the world's largest oilseed processor, Brian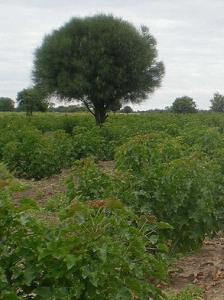 Brokowski, SG Biofuel'sCEO, tells Biodiesel Magazine:
SG Biofuels has now created a fully integrated model for deploying successful and profitable [Guatemalan] jatropha plantations. "Bunge ... will work directly with our customers...region by region... to establish an efficient and effective model for processing jatropha seeds into crude jatropha oil..."
The feedstock buildout is gaining momentum. And Bunge's efforts will dovetail nicely with TAM's.
China and America's efforts have also helped propel the second-generation biofuel revolution. Continental Airlines 2009 demonstration flight used a jatropha and algae blend to power it's GE jet engines. And recently, China and Boeing signed an agreement to launch a jatropha-based flight within a year. After banning the use of corn and edible oil in 2006, and suspending any new bioethanol projects in 2007, China is focusing on second-generation materials like agricultural waste, cellulosic material or oil-bearing plants like jatropha. A Chinese official made a snarky comment to Reuters:
"The United States relied on corn to produce biofuel but relying on crops has been criticized, and second-generation biofuels are more significant for China," said Zhang Guobao, head of the country's National Energy Administration.
Soon we'll be seeing more airlines schedule bio-fuel flights. A Boeing research head, commenting on the future Chinese test flight, feels the new fuel will be commercially viable in three to five years. And I'm sure Frank Sinatra will be reveling in aviation's bio-fuel second act:

Once I get you up there where the air is rarified
We'll just glide, starry-eyed
Once I get you up there I'll be holding you so near
You may hear angels cheer 'cause we're together
photo: TAM Airliner-- Arpingstone at Wikicommons
Photos: Lufthansa plane, and plane with clouds-- Jens Gorlich- CGI: MO CGI GbR
Photo: NExBTL plant- Erkki Ollikka-- Neste media
Photo: jatropha plant-- wikicommons
Photo: jatropha plantation-- Helmut Von Branenstein--wikicommons