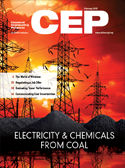 An article in the February 2010 issue of Chemical Engineering Progress, "Producing Electricity and Chemicals Simultaneously" by Herbert W. Cooper (pp. 24-32), prompted quite a few letters from readers and generated much discussion. Because of space constraints, we were not able to print all of them in the magazine. Two appear in the May issue (pp. 4-5).
Here is another letter that we received. The author's reply appears as the first comment.
To the Editor:
We read with interest the recent article "Producing Electricity and Chemicals Simultaneously" in the February 2010 issue of CEP which examines the possibility of doing simultaneous chemical (methanol) and electricity production in one facility and concludes that the economics are poor based on today's costs. We believe that the author's conclusions are not necessarily correct as he has overlooked certain factors in his analysis.

If we consider running two different plants in parallel using the same raw material, then it is clear that, depending on the costs and sales prices of the products, one process will always perform economically better than the other. As a result, there is no apparent advantage in having a mixed product plant. It only becomes profitable to have a mixed product plant when there are significant synergies and integration between the two operations and processes. The author restricts his analysis to a plant that produces electricity only and one that produces electricity and methanol simultaneously. From the outset we can predict that the optimum is either an electricity only plant or a methanol only plant as the author does not consider integration of the electricity and methanol plants. If we look at the author's mixed product plant the only synergy that seems to have been exploited is using the off gases from the methanol plant to make electricity, which is not necessarily a large benefit.

Our research group has been looking into integrated methanol and electricity plants for several industrial clients and believe there are potentially large advantages to integrating the processes in several situations. For instance, there are considerable synergies if we were to make the methanol plant a once through plant and then combust the off gases (which are abundant due to equilibrium limitations) for electricity production. In this case, as one does not have a recycle system one does not have to do air separation, with at most oxygen enrichment. Also the steam generated from the methanol synthesis can be used in the electricity generation.

The possibilities for process combinations are virtually endless and need to be explored in depth, and with insight. We have developed tools to look at the targets (Glasser et al., 2009) or what is theoretically possible, for such situations and so are able to scan the possibilities very rapidly and with a minimum of information. An important point to recall is that simply using the established flow-sheets for the process and putting them together will rarely if ever result in an optimal mixed product plant. Our work has shown that the optimum flow-sheets often become radically different for each of these combinational cases and these reveal the real synergies in the mixed product plants. These mixed product plants certainly can begin to look very attractive from a suitability and economic perspective.

The possibilities for making radical improvements on the way we currently do things are out there if we are open minded in our approach. Part of this thinking requires that we move away from a cut and paste design approach and work on the development of new processes even for established technologies. The thinking and technologies that were available 50 years ago, and those in the market today are in many case quantum leaps apart, but often existing process are not adjusted beyond incremental improvements to take advantage of this. Another example of such possible world changing technology is the integration of air separation and methane reforming proposed by Air Products with the application of their ITM technology.

Yours sincerely,

David Glasser, Diane Hildebrandt, Brendon Hausberger, Bilal Patel, Centre of Material and Process Synthesis, Department of Chemical and Metallurgical Engineering, University of the Witwatersrand, Johannesburg, South Africa

Benjamin J Glasser, Department of Chemical and Biochemical Engineering, Rutgers University, Piscataway, New Jersey, USA

Reference:
Glasser D., Hildebrandt D., Hausberger B., Patel B. and Glasser B., (2009), Invited Perspectives Article: Systems Approach to Reducing Energy Usage and Carbon Dioxide Emissions. AIChE Journal, 55 (9), 2202-2207.