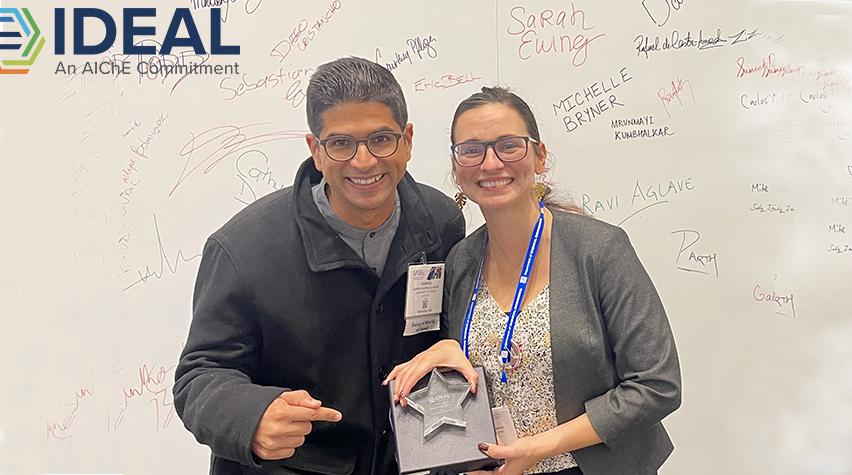 At right, Sindia Rivera-Jiménez (University of Florida) receives AIChE's 2021 IDEAL Star Award, with Gabriel Rodriguez (University of Colorado), the current chair of the LatinX group, shown with her.
This month, AIChE's LatinX in Chemical Engineering Community — an affinity group within the Institute's Minority Affairs Committee (MAC) — is preparing its latest round of programming for the 2023 AIChE Annual Meeting. Now in its third year as a presence in the AIChE community, LatinX in ChE, like other AIChE entities before it, arose from a need identified by AIChE members, and is thriving because of their vision and dedication.
According to Sindia Rivera-Jiménez, an assistant professor of engineering education at the University of Florida and the LatinX in ChE Community's founder, the idea for the group stemmed from something she experienced as a member of the AIChE student chapter at the University of Puerto Rico at Mayagüez: a desire to bring the sense of the familiar to the larger world of AIChE.
"One of the things that I liked about our AIChE student chapter in Puerto Rico is that everybody spoke Spanish," says Rivera-Jiménez. "I didn't need to go to SHPE (the Society of Hispanic Professional Engineers) because, in my AIChE chapter, people spoke like me."
Over the past decade, as Dr. Rivera- Jiménez began to travel to AIChE's Annual Meeting as a professor and as a chaperone to her AIChE students at the University of Florida, she would look for situations that were similar to her student life. "At a huge conference, it's hard for you to find people to mingle with in Spanish, because we're always defaulting to speaking English, which is the primary language of the conference," she says. "So I remember having that sense that, 'Oh, the AIChE that I grew up with is not the same AIChE that I live with as a professional.'"
More than language alone, though, Rivera- Jiménez says that the thing she was most looking for as an AIChE professional was familiarity in a larger sense.
"The Hispanic community has this 'family thing' — that sense of belonging in an extended family," she says. "When you have familia, you have people — parents, kids, aunts — who all play different roles, all with one shared objective of helping you succeed. And, at our AIChE chapter in Puerto Rico, that familia included your professors, peers, and your support network."
As she entered the larger world of AIChE, Rivera-Jiménez found opportunities to build a new network, which she acquired as a conference chair and a member volunteer within AIChE's Women In Chemical Engineering Community (WIC), MAC, and the Societal Impact Operating Council.
"Suddenly I had access to this new network and all this social capital that I didn't have before, and I decided to put it to good use," she says.
Once she had identified a potential AIChE home under the umbrella of MAC, Rivera-Jiménez and her colleagues — including Gabriel Rodriguez of the University of Colorado, who today chairs AIChE's LatinX group — sought to encourage greater involvement from other Latin and Hispanic AIChE members by providing a welcoming and familiar homebase, and to raise the visibility of that community within chemical engineering.
"AIChE is crucial for our community," says Rivera-Jiménez. "As we continue to see each other at AIChE conferences, we make connections and help each to advance."
Initially, Rivera-Jiménez struggled with the naming of the group, noting that the term 'LatinX' is an American definition. "I have never called myself LatinX," she says, adding that the community is made up of people who might self-identify as Hispanic, Latin American, Latin, Latino or Latina, Caribbean, American, and more. She says that she settled on LatinX because of the way the phrasing aligned with existing groups in other professional societies.
"We have a sister, biomedical organization called Latinx in BME," explains Rivera-Jiménez, "and there are other groups that use the hashtag #LatinX, such as LatinX in Chem. Now, we're connected by that hashtag. So, LatinX was a strategic choice, to make it easier to build an audience on social media."
And that audience has been growing. Aside from participation at sessions held at AIChE's Annual and Spring meetings, Jiménez highlights the impact of events such as the recent LatinX in ChE Virtual Symposium — co-organized by MAC and the LatinX in ChE — as an example of community building. The event attracted more than 100 online participants, with research presented in Spanish, Portuguese, and English. "That is a true example of what a global AIChE should look like," says Rivera-Jiménez, underscoring AIChE's mission to be a truly multifaceted and inclusive global professional society.
Today, Rivera- Jiménez continues to act as an advisory board member and advocate for the LatinX in ChE Community, as she turns her attention to a new leadership role as the incoming chair of AIChE's Societal Impact Operating Council. Her vision for a united and strong familia remains.
"I want to see students and faculty and people in industry — all of them — on the LatinX board of directors. It is a family, so we need everybody to voice their needs, and to have a seat at the table."
Invitation to Join LatinX in ChE: Celebrating Hispanic Heritage Month
Hello, Familia! We are excited to invite you to be a part of LatinX in ChE, a vibrant community under the AIChE MAC Community's umbrella, dedicated to strengthening the bond among AIChE members of Latin American descent.
Our board is a melting pot of diverse roles, including students, faculty, postdocs, and industry professionals. Whether you're just starting out or a seasoned pro, there's a space for you.
Connect with us
Email us to join our Slack channel: LatinXinChE@gmail.com
Stay updated on our activities and follow us on social media: https://linktr.ee/latinxinche
Meet the team: https://www.aiche.org/community/sites/committees/minority-affairs/latinx-che/leadership