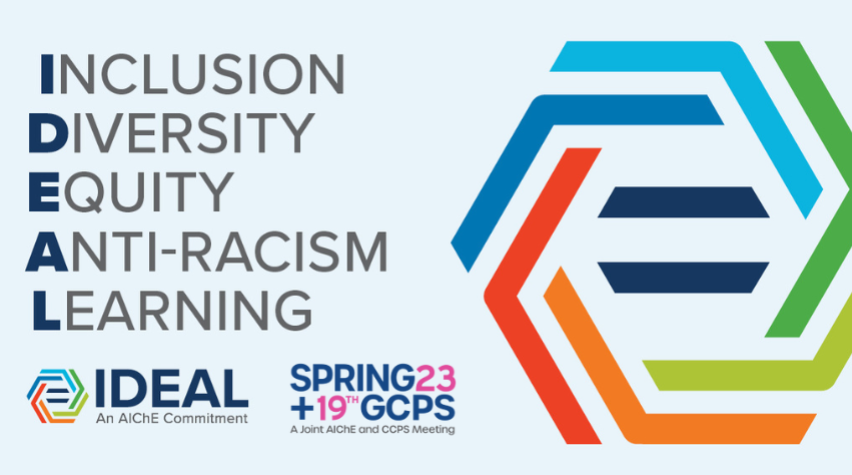 In addition to regular programming, this year's Spring Meeting & GCPS will also feature events that showcase AIChE's efforts towards equity, diversity, and inclusion and the IDEAL Path. To learn more about AIChE's commitment to the IDEAL Path, visit aiche.org/EDI.
Please see below for IDEAL programming at the 2023 AIChE Spring Meeting & GCPS.
Engaging Industry with DORIC
Monday, March 13, 2023, 12:00 PM – 2:00 PM CDT
Join this session and learn about how industry employee resource groups (ERGs) can best influence their company to be as supportive and accommodating as possible for employees who identify as having a disability.
The Faces of Process Safety: Process Safety Mentoring for Our IDEAL Workforce
Monday, March 13, 2023, 3:30 PM – 5:00 PM CDT
This session, sponsored by the Careers and Education Committee of the AIChE Safety & Health Division, will focus on career paths in process safety, the diversity of the process safety profession, and the role of mentorship to promote a diverse and inclusive process safety workforce.
IDEAL Reception
Monday, March 13, 2023, 5:00 PM – 6:30 PM CDT
Join the IDEAL reception and celebrate DORIC, K-12, LGBTQ+, MAC, and WIC.
WIC Networking Breakfast & Keynote
Tuesday, March 14, 2023, 8:00 AM – 9:30 AM CDT
This event offers members a chance to network, exchange ideas, and share knowledge while enjoying a buffet style breakfast.
WIC Panel
Tuesday, March 14, 2023, 10:15 AM – 11:45 AM CDT
Attend the WIC panel for an open discussion on how women can navigate the field of chemical engineering and the specific challenges they may face. The panel will feature women of diverse backgrounds and experiences.