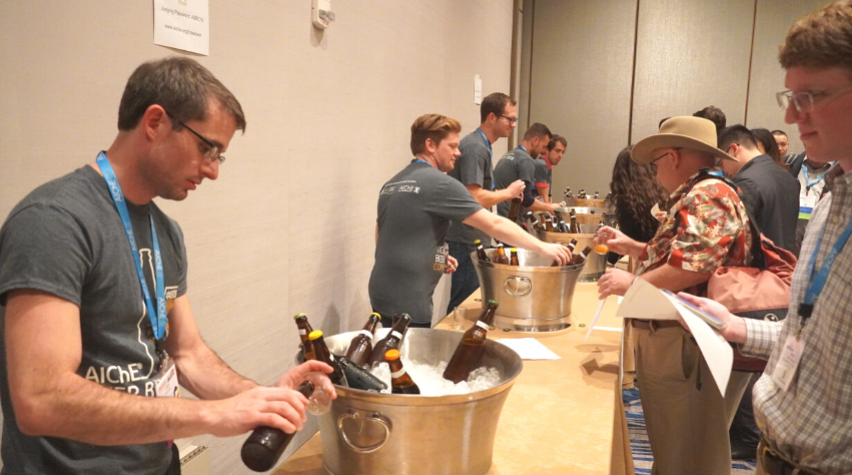 Beer brewing is one of the oldest known batch processes. Not only is beer brewing near and dear to the hearts of many chemical engineers, but it is inexorably linked to chemical engineering. The brewing process involves chemical engineering principles such as enzymatic conversion, extraction, heat transfer, microbial fermentation, and separations, among many others. This is one of the reasons AIChE's Young Professionals Committee launched the AIChE Beer Brewing Competition (ABBC) back in 2017.
To compete in last year's competition in Boston, a former classmate of mine, Dan Amichetti, and I formed our homebrew team, Barley Bioprocessing. We were fortunate enough to take home Best of Show honors for our Festbier. We had an absolute blast and are looking forward to defending our title this year in Phoenix, AZ. We were able to get our team started up quickly and wanted to share some tips on how you can join in on the fun this year too.
Every great beer is made of the right blend of ingredients (barley, water, hops, and yeast) processed in the right fashion. In the same way, our team found that a great beer brewing team is also made up of simple ingredients: people, process, time, and fun.
People
Putting together a great team starts with finding the right people. Traditionally, a love of beer is a good place to start when assembling a beer brewing team. It shouldn't be too hard to find fellow beer fans among friends and colleagues, but for this competition, you'll also want to seek out fellow chemical engineers and AIChE members. An ABBC team must consist of two to five AIChE members, one of whom must be under the age of 35, since this event is put on by AIChE's Young Professionals Committee. A team must also represent a group from within AIChE. This can be a local section or a technical group within the AIChE community. Starting a beer brewing team can be a great opportunity to make new connections with other ChEs in your field or local area, or to invite colleagues and old classmates to learn more about AIChE while having fun and brewing beer!
Process
You don't need sophisticated equipment to make great beer; homebrewers can get started at any scale. A basic kitchen stockpot and a glass jug can produce great-tasting beer, especially when combined with an engineering skillset. If someone on your team is already a homebrewer, be sure to make use of their expertise and equipment. If not, local homebrew shops and online retailers sell affordable starter kits and recipe packs to set you on your path. Once you obtain your equipment, pick a beer (or beers) that inspires your team. Perhaps it's a beer that the group enjoys drinking, or maybe it's a particular style that will present an interesting challenge during the brewing process. The actual brewing of the beer is where you can flex your muscles as chemical engineers in a fun, low-stakes setting that you might not otherwise have at work or in a professional setting.
Time
A key ingredient for a successful homebrewing team is time. Depending on the recipe, it usually takes at least one month for a beer to fully ferment and carbonate after brew day. When you factor in additional time for bottling, transport to the competition site, and the possibility that your team may want to enter multiple beers, competition day can quickly sneak up on you. Plan ahead with your teammates and start early. For the November competition, consider brew days in August or September. Once the beer is in the bottle, there is still a poster to think of! The ABBC asks all teams to prepare a poster that details the technical aspects of their brewing process and their engineering calculations for metrics such as alcohol by volume (ABV) and brewing efficiency. Make sure you take all the necessary measurements on brew day so that you have them ready for your poster.
Fun
Ultimately, this competition was started as a way for chemical engineers to come together and forge new connections with each other around a shared interest. Contributing to a final product with your teammates over the course of several weeks and then coming together to share your beer among all of the competition teams was a fun and rewarding experience for us. It was a great way for our team — former classmates in college now working at different companies in the pharmaceutical industry — to work together on a project again and put our ChemE skills to the test against other accomplished engineers from across the U.S.
This year, the fifth ABBC will be held at the 2022 AIChE Annual Meeting in Phoenix, AZ, on Nov. 13, 2022. Registration will open in Summer 2022. Be sure to visit www.aiche.org/community/awards/aiche-beer-brewing-competition for all the latest news and announcements. I hope to see you and your team in Phoenix! I know we will be there with beers in hand.
This article originally appeared in the Emerging Voices column in the May 2022 issue of CEP. Members have access online to complete issues, including a vast, searchable archive of back-issues found at www.aiche.org/cep.