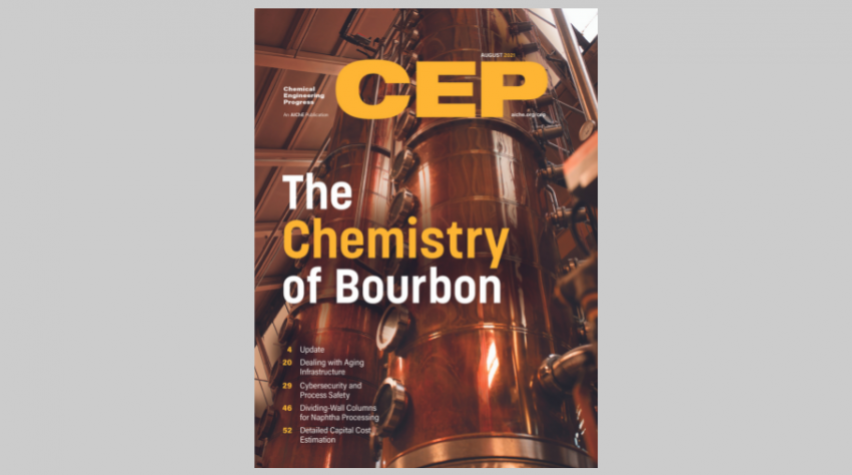 Plant Operations
Deciding Between Short-Term and Long-Term Solutions for Aging Infrastructure
Failures related to aging assets can be catastrophic to a facility. This article presents a framework for evaluating whether to implement a short-term fix or a larger overhaul.
Safety
How Is Cybersecurity Changing Process Safety?
Leveraging existing process safety risk assessment techniques can help organizations effectively manage cybersecurity risks.
Back to Basics
The Chemistry of Bourbon
A resurgence in the popularity of bourbon has inspired a more detailed study of the science involved in its production.
Reactions and Separations
Optimize Naphtha Processing Using Dividing-Wall Technology
Dividing-wall columns are a cost-effective option to increase capacity and meet tighter product specifications in naphtha processing.
Business Management
Detailed Capital Cost Estimation
Accurate detailed capital cost estimates are critical for the successful implementation of major commercial investments.
Update:
New Drug Interferes with Coronavirus Genome
Innovative Face Mask Detects COVID-19
Protecting Crops from Climate Change
Engineers Create Strong, Lightweight Metallic Wood
Lipid Nanoparticles Deliver RNA Drugs to Inflamed Cells
Plus:
Editorial: Engineering the Bourbon Boom
Catalyzing Commercialization: Industrial 3D Printing Surges Forward with High-Performance Elastomers
AIChE Journal Highlight: Transforming Pharmaceutical Process Development
Process Safety Beacon: Even Tanks Containing Mostly Water Can Explode
New Products: Operations and Maintenance; Fluids and Solids Handling; Instrumentation; Bioprocessing; Materials and Chemicals; Environmental, Health and Safety; Software
Advanced Manufacturing Progress: Modular, Intensified Approaches to Carbon Capture and Utilization
Safety Minute: Sleep Loss Doubles Errors
Profile: Mary T. am Ende: In the End, Learning Matters Most
Career Connection: Build an Engaging LinkedIn Profile
Institute News

Featured Events Announced for 2021 AIChE Annual Meeting
AIChE 2021 Gala, Dec. 1, New York City
Chakraborty Chosen as 2021 Prausnitz Institute Lecturer
AIChE Launches Food Engineering, Expansion and Development Institute
In Memoriam: Bob G. Perry
The August issue of CEP is now available on the AIChE website, on the CEP app, and as a digital flipbook.