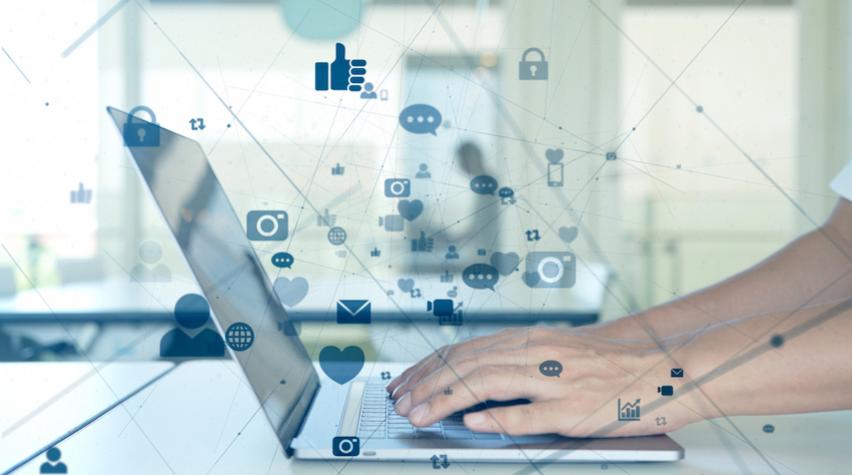 When it comes to career advancement, social media is a must. Twitter is great to find influencers in your field, learn and network with new collaborators, and to engage in effective and appropriate self-promotion. But it is LinkedIn where you should invest the majority of your social media time.
As you already know, LinkedIn is the platform for career development. It is specifically designed for three purposes: to network, self-promote, and get jobs. It is the place where recruiters and decision-makers search for candidates, and you want to be seen as a contributing member of your community. Your activity on LinkedIn will serve as the cornerstone of articulating your value to the public.
Like any social media, if you are not careful, LinkedIn can become a time sink. By adhering to the following pillars of social media presence, you ensure you are using your time judiciously (and investing in your future!).
Be professional
Your postings, comments, questions, pictures and videos – all reflect your professionalism, seriousness about your craft, and dedication to science and engineering. This means using appropriate language and not posting things that reflect poorly on your reputation and brand such as offensive or divisive comments.
Be dynamic
Seek to engage the members of your community with content that is relevant to them, by being both proactive and reactive with your activities. Be proactive by posting new content on LinkedIn, starting new discussions and contacting people within the community whom you find interesting. Be reactive by commenting on what others post or contacting people who post things of interest to you to continue the conversation via an informational interview.
Be valuable
Everything you post, whether it is reactive or proactive, should be construed as a value-addition to the community. By adding value and not wasting people's time, you accomplish two tasks: you elevate your brand and reputation in the minds of those around you and you are perceived as a credible leader and expert. And therefore, more people will be interested to hear what you have to say. Furthermore, once you are established as a thought leader, others will seek you out to establish potential partnerships.
It is all about delivering ROI for those who take the time to read your contributions: make sure that every time someone sees that you have posted something, they know it will be incredibly worth their while to read what you have offered.
Be seen
The more you engage others with professional, dynamic, and valuable content, the more you will be seen as being professional, dynamic and valuable. Every action on social media contributes to the public's perception of your brand, attitude and reputation, so post often. Build a buzz around your reputation so much so that those around you can't help but think of you for that next great (often hidden) career opportunity.
Be consistent
Since your brand is your promise to deliver excellence, dependability, and expertise in whatever you do, it is important to ensure that all of your social media interactions are consistent with your brand. This also involves making certain that your brand is consistent across platforms. For example, your user names on different sites should either be the same or very similar, so that when people see a post from you, they know it is you and not your doppelganger.
Be mindful of privacy
Be aware that anything you post is accessible by anyone else from now until the end of time: although this seems to be a notion steeped in common sense, it certainly merits specifying and amplifying that once you post something, it is online forever, and there is no such thing as "privacy."
So, where to start on LinkedIn?
The features are varied and incredibly useful, and it might seem like you have to engage all of them to move your career forward. This is not true. Particularly for people who are getting used to the platform, let's focus on a few features to leverage for achieving your career goals.
Your profile
Your profile should include a headline that clarifies what problems you solve for potential employers and collaborators. Instead of writing "unemployed chemical engineer," use "Chemical engineer with expertise in x and y; thoughtful and strategic leader, communicator, and problem-solver." Since the headline is advertising you to collaborators, you can also include high-level skills and capabilities. Your profile should have a strong "about" section, with quick summaries of the types of problems you have solved and will solve, key aspects about your background, unique credentials and qualifications, and an overview of who you are.
The rest of the profile should include any experiences you have had where you gained skills and solved problems. This can include course projects, volunteer activities in your community, and leadership roles in AIChE and other groups. Remember to use keywords so that hiring managers can find you when they search for those capabilities.
Access samples and best practices for LinkedIn profiles for AIChE members only.
Company pages
When you type in the name of a company in the main search bar, you find yourself at the company's LinkedIn landing page, which is a gold mine of information. Not only can you get background insight about the organization, but you can also access a list of job advertisements (some of which are only advertised on LinkedIn!). If you click on "people" on this landing page, you see all of these people in your own network who work or worked for the organization, and you can do targeted searches that show you where employees are located, what schools they went to, what they studied, and more.
Alumni
Similar to company pages, check out your alma mater's profile and prepare to be value-bombed. My absolutely favorite LinkedIn feature is here: the "Alumni" feature, which allows you to search your former classmates, based on years, major, company, and job function, to see where they work. This is where I find the majority of people I network with on this site.
Jobs
The job advertisements on LinkedIn are useful for more than you think: you can use them to do research on companies and what they look for in their hires. You will discover how the organizations refer to their employees and the responsibilities and expectations, which reveals the unique language these companies use.
Every organization has its own language and culture, and the more you use that language and reference the culture in your job marketing materials, the better chance you have of getting an interview (and getting hired!). You can save jobs of interest and even apply through the platform and acquire insights about other applicants.
Connections
Your connections are just part of your network, because after all, once you and I are connected, you are also connected to all of my connections (and thus we soon prove six degrees of separation!). Review people's LinkedIn profiles and invite them to connect. And you can do the same with AIChE members you engage through the association and its meetings.
Posts
Posts are a fabulous opportunity for you to share aspects of your brand with the community. You can treat it like a blog, or post articles and webinar announcements of use and of value to the people in your profession and field.
This is just a snapshot of the value you can get from spending time on LinkedIn. Please connect with me and let's see how we can continue to help you move your career forward!
Note: Concepts in this blog build on and have appeared in other works by the author, including her presentations, articles, columns, and book, Networking for Nerds (Wiley, 2015).
Learn about institute networking opportunities, attend a career fair, get profession advice, or simply check out the AIChE job board, CareerEngineer.