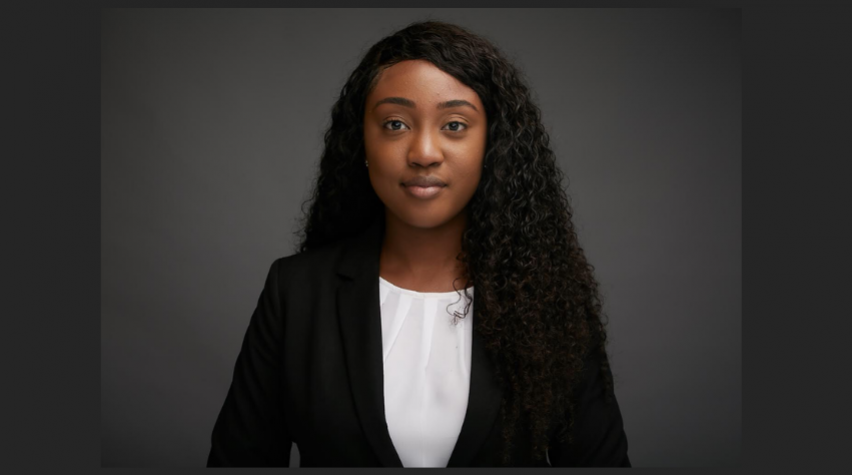 This month, ChEnected observes Black History Month with posts about AIChE's progress toward equity and inclusion, and the people and groups that are making a difference.
AIChE's gains its strength from the talented and passionate people who make it their purpose to change things for the better. One of those forces for progress is Abidemi Awojuyigbe, who made her initial connection with AIChE when she was awarded an undergraduate Minority Affairs Committee (MAC) scholarship in 2019.
Still in her undergraduate years, Awojuyigbe is already distinguishing herself as both an advocate for women and minorities in engineering and as an engineering innovator — in other words, as a leader.
Abidemi Awojuyigbe was born and raised in Nigeria, and today is a chemical engineering student at Prairie View A&M University. In short order, she has acquired a variety of industry experience through internships. These include an immersion in process safety at a Praxair plant and project engineering work at Air Liquide. Recently, leveraging some of what she learned as a systems engineering intern at Dell, she has been creating a website and app called "Scholist," which she envisions helping college students to conquer the burdens associated with student debt.
Awojuyigbe is also busy performing STEM (science, engineering, technology, math) outreach for the Society of Women Engineers.
This month, ChEnected interviewed Ms. Awojuyigbe about her advocacy and her dedication to engineering for all.
How did you discover engineering?
Growing up, my favorite places in the world were bookshops. They were my oasis. I was inspired by female engineers I had read about in books. One woman engineer who intrigued me was Emily Roebling. She was an early champion for breaking the glass ceiling for women in STEM. The stories of women doing extraordinary things pushed me towards my goal of one day being an innovator and a leader in engineering, and to one day inspire others.
The stories of women doing extraordinary things pushed me towards my goal of one day being an innovative and a leader in engineering, and to one day inspire others," says Awojuyigbe.
Do you have a personal mentorship experience?
A personal mentor I admire today is Calicia Johnson (Chevron), who I met through a National Society of Black Engineers scholarship. She has been an ally, and is a strong advocate for women in engineering. I have always liked the idea of a mentorship being an organic friendship. Calicia and I learn from each other, and we are better for it. This is why I encourage young females to have a mentor that they can learn and grow with.
Have you found opportunities to mentor other young people in engineering?
I currently sit as the Community Relations Chair for the Society of Women Engineers. In this role I mentor engineering students, and help them find scholarship and internships. This position has been monumental for me because, as history has shown, women in STEM have faced an uphill battle. It's gratifying knowing that I'm a part of an organization that is dedicated to the betterment of thousands of women in engineering.
I also plan to expand my "Girls In STEM" mentorship efforts to other collegiate organizations and departments at Prairie View A&M. Working to bring more women into the chemical engineering industry means identifying future trailblazers. If I can guide a potential leader through the troughs that come with this journey, then I feel my life's work would be done.
Tell us more about the Scholist App.
I am building the Scholist website and application because I noticed that a significant number of Black and minorities students find it difficult paying for college. I hope to connect people hungry for education with schools that can assist them in acquiring degrees on a scholarship. The Scholist App would be geared towards empowering students such as myself to obtain scholarships and funding for higher education, and to reduce a significant amount of student debt.
Scholist will also be an example for younger girls in my community, allowing them to see what a goal-focused woman with the right mindset and education can achieve.
Do you have some closing advice for women considering a career in STEM?
One piece of advice I would give to women thinking about pursuing a degree in engineering is to never give up! It might seem difficult, but it is rewarding at the end. I would also stress the importance of having a mentor. I always had a mentor at different points in my life, someone I could talk to for career and personal advice. Lastly, in the course of your studies, never forget your "why." Understanding your why is going to keep you focused throughout the course of your studies.