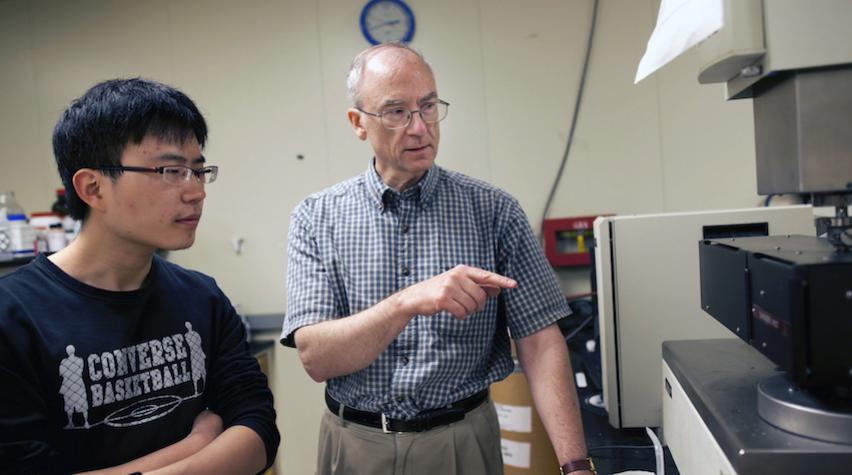 Above: Ron Larson (center) in his lab. Photo: Joseph Xu, Michigan Engineering Communication and Marketing
This fall, ChEnected will introduce readers to the recipients of AIChE's 2020 Institute and Board of Directors' Awards. These are AIChE's highest annual honors, with each recipient nominated by the chemical engineering community and voted on by the members of AIChE's volunteer-led Awards Committee. The awards recognize eminent achievements and world-class contributions across a spectrum of chemical engineering endeavors.
The William H. Walker Award
The oldest of AIChE's continuously presented awards, the William H. Walker Award for Excellence in Contributions to Chemical Engineering Literature was first presented in 1935 and is named in honor of William Hultz Walker (1869–1934), a founder of the chemical engineering discipline who established the School of Chemical Engineering Practice at the Massachusetts Institute of Technology in 1916. The Walker Award is presented to a member of AIChE who has made outstanding contributions to the field's literature. The award is sponsored by John Wiley & Sons.
The recipient of the 2020 William H. Walker Award is Ronald G. Larson, the A. H. White Distinguished University Professor and G. G. Brown Professor of Chemical Engineering at the University of Michigan.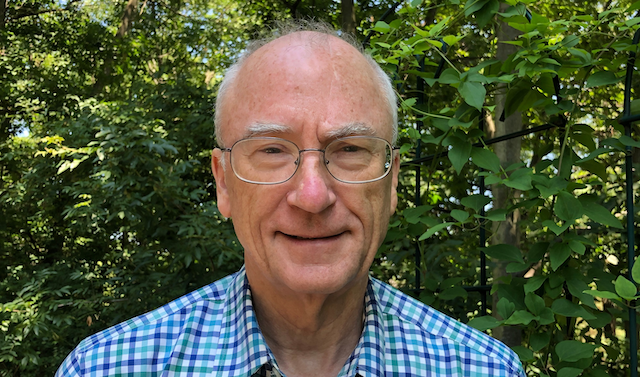 Ronald Larson, University of Michigan, recipient of the AIChE 2020 William H. Walker Award for Excellence in Contributions to Chemical Engineering Literature
Dr. Larson is being recognized for his highly influential books and review articles in rheology and chemical engineering transport — in particular, for his monograph/textbook The Structure and Rheology of Complex Fluids, which has been cited more than 5,000 times.
My career was enabled by others, whose help I hope to emulate.
About this year's winner
Dr. Larson earned his BS, MS, and PhD in chemical engineering from the University of Minnesota. He worked for 17 years at Bell Laboratories (Murray Hill, NJ) before joined the University of Michigan (UM) faculty in 1996. There, his research interests have included the structure and flow properties of complex fluids, which include polymers, colloids, surfactant-containing fluids, and biological macromolecules. He has also served as Chair of UM's Chemical Engineering Department.
He is a recipient of AIChE's Alpha Chi Sigma Award for Chemical Engineering Research (2000), the Bingham Medal from the Society of Rheology (2002), and the Polymer Physics Prize of the American Physical Society (2019). In 2003, he was elected to the National Academy of Engineering. He is a Fellow of the AIChE and has served on the steering committee of AIChE's fluid mechanics group. He also serves on advisory board for the chemical engineering departments at Cornell University, the University of Minnesota, and Texas Tech University.
Dr. Larson's reflections on the award
In accepting the Walker Award, Dr. Larson shared these reflections:
"My career was enabled by others, whose help I hope to emulate. My indifference to study ended when a thoughtful teacher, Mr. Solheim, gave me a C+ in algebra, writing that I "was not even trying." Buckling down, I got grades that gained me an Alworth scholarship to the University of Minnesota. Loving chemistry due to the high school teaching of Ed Welke, but wishing to pursue engineering as my father had, I was delighted to discover "chemical engineering," which I chose even before knowing the stature of the department at the University of Minnesota.
My intention to stop with a B.S. degree was arrested when Prof. "Skip" Scriven recruited me to undergraduate research and eventually M.S. and Ph.D. research under himself and Ted Davis. My intention to work in a traditional field was transformed by a job offer from Bell Labs, which had just started a chemical engineering department. The outstanding environment and colleagues there enabled the success that brought me an excellent faculty position, where colleagues and students allowed a rewarding career in research, teaching, and mentoring. I am thankful beyond words for being honored by the profession and people I love, for doing what I love."
The 2020 William H. Walker Award is generously sponsored by Wiley.

---
In the weeks leading up to the 2020 Virtual AIChE Annual Meeting, we will feature other 2020 Institute and Board of Directors' Award recipients, so please visit again to read more about these highly accomplished individuals.