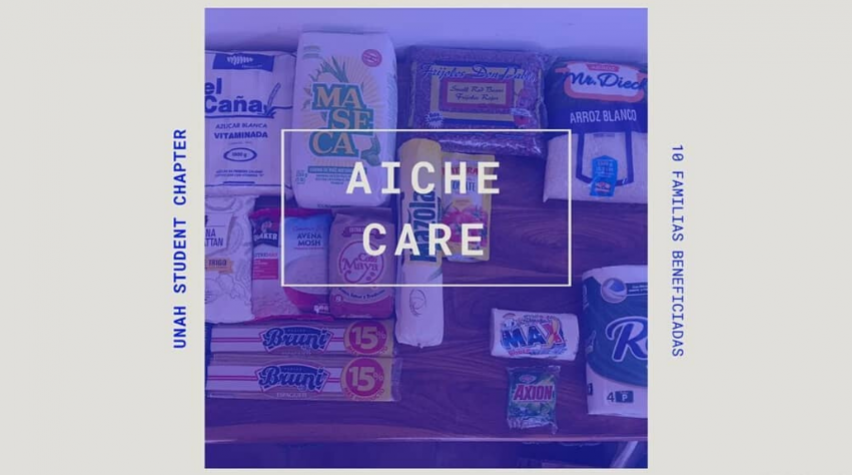 AIChE CARE HONDURAS is an initiative of the student chapter of the American Institute of Chemical Engineers (AIChE) at the National Autonomous University of Honduras (UNAH).
The initiative was created in response to the coronavirus pandemic crisis in Honduras. As a result of the mandatory quarantine declared to prevent the spread of the virus, many families in our country that make their living as street vendors found themselves without basic resources. Moreover, Honduras is one of the countries with the highest poverty rates in the region, which is why the project is currently focused on donating baskets of goods to low-income families.
When the project began, we were able to reach 10 families in a small town called Tatumbla in Francisco Morazán, Honduras. The baskets given were worth $15, which was taken from the saving funds of the chapter. It was collected through holidays sales.
The Unión AIChE LATAM project
Through Unión AIChE LATAM, which had an academic as well as a social approach, we raised more money to expand our AIChE CARE project. When attendees of one of the many Unión AIChE LATAM virutal conferences donated a minimum of $4 to the AIChE CARE project, they received a certificate of attendance. In addition, we were lucky enough to receive donations from many other people, exceeding our expectations.
We raised a total of $1,014. This donation campaign was made through a Honduran platform named abrassos.org, which made international transactions easier and enabled us to receive donations from Costa Rica, El Salvador, Nicaragua, and Chile.
Making the baskets
The baskets were made with the help of a local supermarket and were delivered through an organization named "Your hands are my hands," which made the process much easier since they had an organized structure and had already identified several families in need in the area (Ojojona, Francisco Morazán).
The positive impact
It was very rewarding seeing the happiness we brought to the 70 families who received the baskets. The response we got from this project has been overwhelming, and we truly thank everyone who made it possible.
We believe that when we set our minds to it, we can certainly make a positive impact in our world and, once again, let's remember that we are in this together!