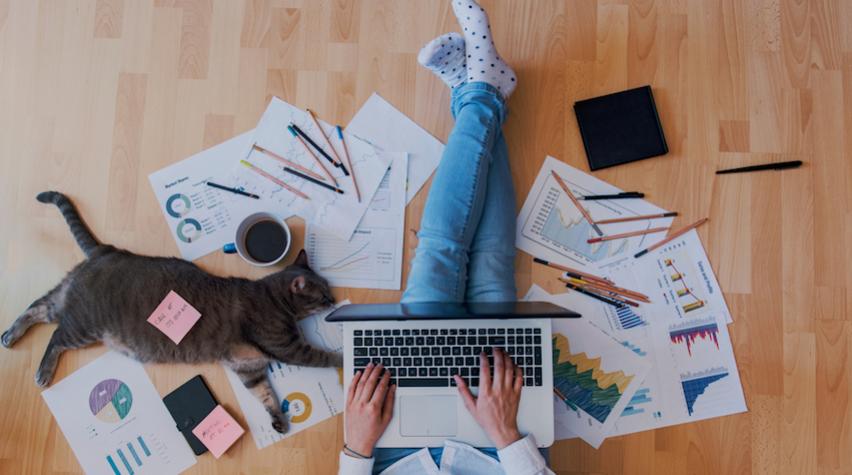 With the dramatic shift of many companies implementing work-from-home policies, its easy to feel like a fish out of water. For many, this is the first time working from home on a full-time basis. And even if you're used to working from home on a somewhat regular basis, doing so during the coronavirus pandemic can present a whole new set of challenges.
A discussion recently popped up on AIChE's Engage Discussion Central where members have been sharing their strategies for working from home with their fellow chemes. We've compiled a list of tips that will help you be successful and maintain your sanity during these unprecedented times.
Stay connected
It's easy to give in to isolation without seeing your coworkers in person. Take advantage of the many apps and tools available to stay in touch. Whether its Zoom, Skype, or one of the many other programs available, use these to stay connected. Using video calls helps maintain the human connection we all need.
Fortunately, the tools for maintaining virtual contact with friends/family/colleagues are pretty great now. They don't take the place of seeing someone in person, but they're way better than having only written correspondence and telephone.

Kirsten Rosselot
Establish a routine
The temptation to succumb to a structureless existence while working from home is strong. After all, who's watching? Creating and sticking to a routine working from home is just as important as going into a traditional office setting.
You have to keep a routine. Yes, you might have more flexibility now that you are working from home, but it's critical to keep regular time/hours that are work and others that are not. The routine will help you grind through the days where you "just can't even." Take a shower every morning. Change into proper clothes. Don't work in your jammies. Also stop working at a set time and do not answer texts or messages after that. The temptation will be strong, but you need to hold to regular hours.

Andrew Riederer
Create your workspace
Whether you already had a home office, or you're working from your kitchen table, it's important to create a space to work in. Creating that space mentally prepares you to know that when you're seated in that area, you're working. If you live with other members of a household, establishing an understanding that when you are seated in that area of your home, you're working.
When the kids were small, they had to have a clear understanding that when I was at work, I may have been in the dining room (first office) or the bedroom (later office), but I was at work.

David Russell
I'm retired but doing some part-time work, and I struggled at first with being interrupted by my retired husband. Now, I make sure to say that "I'm going to work" before heading into the spare room, and the interruption rate has dropped significantly.

Jean Cronin
Make time for yourself
Without typical office socialization, breaks, and lunch with friends, getting sucked into a project without taking time for yourself happens before you know it. Taking breaks helps refocus your energy and concentration.
I benefit greatly from a few minutes of mindfulness practice a few times a day. It helps me discipline my mind and focus where focus needs to be instead of trying to respond to the hundreds of stimuli that are constantly bombarding my brain space (e.g., e-mail, co-worker IMs, news notifications, requests from family, pets wanting attention, etc.)

Teni Butler
...I do a lot of great thinking on the hike, and by the time I'm on the way back, I have solved a few problems... Studies show people who work from home take fewer breaks and actually work more, so your employer can spare you 45 minutes.

Andrew Riederer