The AfroBiotech Conference highlights the achievements of African Americans in biotechnology. It aims to inspire a new generation of diverse biotechnology professionals, as well as identify, communicate, and explore current advancements in various aspects of biotechnology.
I spoke with Weslee about his experience at last year's conference and why someone should attend AfroBiotech 2020.
In your opinion, what makes this meeting different from others? Why should someone attend? ​
Representation matters. It is so nice to network and fellowship with other Black people in STEM. In my view, this conference is the perfect size. Small enough so that you can meet most everyone and large enough that you can get very different subject areas.
What was the best part of the 2019 conference? ​
Unfair question. Everything was perfect. I really loved the seminars, the panels, the posters, the people. Everything was just great. And it was in Atlanta in fall! Great weather, great food, fantastic people. I loved everything about the conference.
What message would you like the audience to take away from this year's conference? What are you looking forward to?
​I've been involved in outreach for a long time. I really want the younger participants to see what excellence looks like and to get plugged into the community early. I want everyone to leave the conference feeling inspired and empowered. I know I did in 2019.
The AfroBiotech Conference 2020 will be held in Atlanta, GA, from Oct 25-27, 2020. Learn more and submit an abstract today.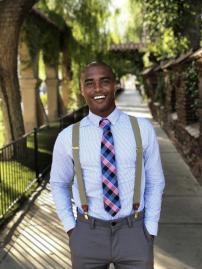 Weslee Glenn

Dr. Weslee Glenn is a senior scientist currently based at Provivi, Inc. in Santa Monica, California. His work has been funded by several national fellowship competitions, including the Ford Foundation Post-Doctoral Research Fellowship, the United Negro College Fund/ Merck Post-Doctoral Fellowship, and the National Science Foundation Pre-Doctoral Fellowship. Dr. Glenn completed a post-doctoral fellowship at the California Institute of Technology (Caltech), where he developed Bioorthogonal Non-Canonical Amino Acid Tagging (BONCAT) to study protein synthesis in plants.