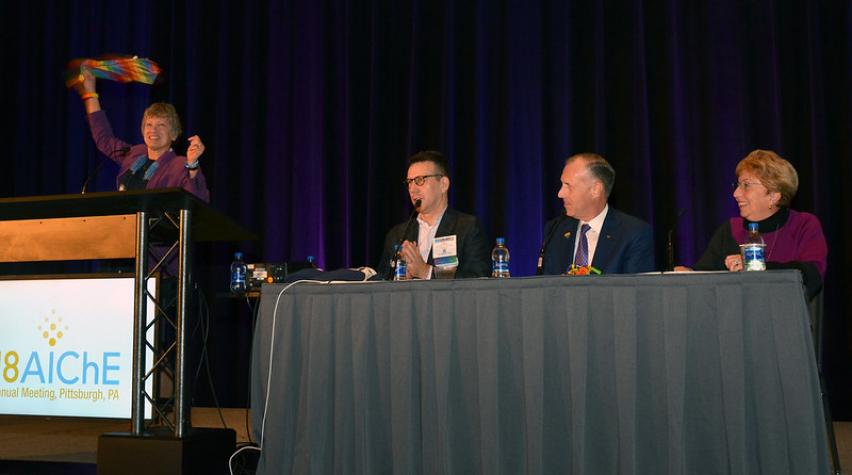 There are a number of LGBTQ+ & Allies events happening at this year's 2019 AIChE Annual Meeting and Annual Student Conference. Each event allows LGBTQ+ & Allies to network, socialize, and have discussions with other members of the community. Topics at the Annual Meeting include LGBTQ+ inclusion, STEM inclusion, and how to become a better ally of LGBTQ+ engineers.
Find out more below!
LGBTQ+ & Allies Ice Cream Social
Please join us for the LGBTQ+ & Allies Ice Cream Social at this year's Annual Student Conference! Mingle and network with other student engineers and young professionals while enjoying a scoop or two. Get there early, ice cream will be first come, first served! All undergraduate students are welcome.
The Current State of STEM Inclusion in the Workplace
In October of 2018, AIChE, among other engineering and science organizations, participated in the STEM Inclusion Study.
The goal of the study was to investigate the experiences of professionals from across STEM disciplines and industries to identify potential mechanisms of disadvantage at the interpersonal, organizational, and professional levels.
Please join us as Dr. Erin Cech presents the results and analysis of this study.
LGBTQ+ Inclusion in Engineering [Workshop & Panel]
This session will include a presentation and a panel on how to best attract, engage and include LGBTQ+ engineers in your workplace, department, or classroom. Strategies will be given for allies of the LGBTQ+ community to better support their colleagues and influence the overall climate.
LGBTQ+ & Allies Reception: Hosted by AIChE Leadership
Join AIChE and Foundation leadership for the 4th Annual reception for LGBTQ+ members and their allies.
Enjoy hors d'oeuvres, refreshments, music, and an opportunity to network with other LGBTQ+ & ally chemical engineers.