Cato T. Laurencin, an AIChE Fellow, Board Director, and University Professor at the Univ. of Connecticut, has received the National Academy of Engineering's (NAE) Simon Ramo Founders Award, which honors outstanding professional, educational, and personal achievements that have benefited society. Laurencin was recognized "for fundamental, critical, and groundbreaking scientific advances in the engineering of tissues, guiding technology and science policy, and promoting diversity and excellence in science." The prize was presented to Laurencin on Oct. 6 at the NAE's 2019 Annual Meeting in Washington, DC.
Laurencin is the eighth designated University Professor in the nearly 140-year history of the Univ. of Connecticut. There, he holds professorships in chemical and biomolecular engineering, materials science and engineering, and biomedical engineering. He is also the Albert and Wilda Van Dusen Distinguished Endowed Professor of Orthopaedic Surgery.
In addition to his leadership in biomaterials, nanotechnology, stem cell science, and drug delivery systems, Laurencin pioneered the field of regenerative medicine. He and his group were the first to develop nanofiber technologies for tissue regeneration, and they have also developed polymer-ceramic systems for bone regeneration. Laurencin is founder of AIChE's Regenerative Engineering Society, and he also serves as Chief Executive Officer of the Connecticut Convergence Institute for Translation in Regenerative Engineering.
Among his honors, in 2014, Laurencin received the U.S. National Medal of Technology and Innovation, the highest honor bestowed in America for technological achievement, presented by the President of the United States, "for seminal work in the engineering of musculoskeletal tissues, especially for revolutionary achievements in the design of bone matrices and ligament regeneration."
Laurencin is an elected member of the NAE, the National Academy of Medicine, and the American Academy of Arts and Sciences, and is a fellow of the National Academy of Inventors and the American Association for the Advancement of Science.
He is also an elected fellow of the African Academy of Sciences, National Academy of Sciences of India, Indian National Academy of Engineering, and the World Academy of Sciences, as well as an academician and elected member of the Chinese Academy of Engineering.
Join the Regenerative Engineering Society today.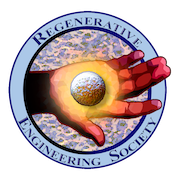 ---
Learn more about the Regenerative Engineering and Translational Medicine Journal.
---
Cato Laurencin
Cato T. Laurencin is the Albert and Wilda Van Dusen Distinguished Professor of Orthopaedic Surgery, Professor of Chemical and Biomolecular Engineering, and the Professor of Materials Science and Engineering, and Professor of Biomedical Engineering at the University of Connecticut. He is also the Director of the Raymond and Beverly Sackler Center for Biomedical, Biological, Physical and Engineering Sciences, and the Chief Executive Officer, The Connecticut Convergence Institute for Translation in Regenerative Engineering. Read more