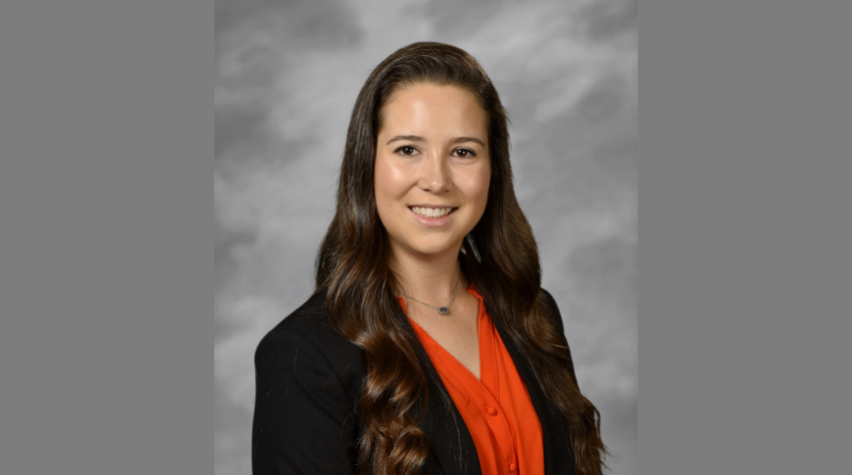 The John J. McKetta Undergraduate Scholarship was presented in Dr. McKetta's honor for the fourteenth year during the 2018 Annual Student Conference in Pittsburgh, PA.
Each year, this $5,000 scholarship is awarded to an incoming senior or junior chemical engineering student who is planning a career in the chemical process industries. In addition to demonstrated academic excellence, the recipient of the annual scholarship has a track record of strong leadership and active participation both in their AIChE student chapter and in other university activities around campus.
AIChE is pleased to announce that this year's John J. McKetta Undergraduate Scholarship was presented to Sarah Desharnais, who is now a senior chemical engineering student at Oklahoma State University.
Sarah's commitment in the classroom, demonstrated by her 3.915 GPA, is mirrored in the lab, where her work has earned her a prestigious research grant. She is an elected leader in her AIChE student chapter and belongs to her chapter's successful Chem-E-Car team. Sarah is also actively involved with Tau Beta Pi, Omega Chi Epsilon, and the Society of Women Engineers. She is a tutor and campus tour guide, represents her college in the Oklahoma State University Student Government, and serves on the Unit Operations Lab Safety Squad.
Inspired by her internships at two different refineries, upon graduation, Sarah hopes to work at a refinery or other chemical process plant where she can focus on improving technological integration that saves plants money and makes processes safer.
To quote her student chapter advisor, Jindal K. Shah, PhD, Sarah has a demonstrated "capacity to work hard, set goals, and succeed." We trust this will follow her and provide for a bright future in chemical engineering.
Sarah is the first student from the Oklahoma State University AIChE student chapter to receive this prestigious award, and her fellow chapter member and Chem-E-Car teammate Joshua Sallee, pictured below with AIChE President Christine Seymour, enthusiastically stood in to accept Sarah's award on her behalf during the Student Awards Ceremony on Sunday, October 28. We look forward to recognizing Sarah in person during the 2019 Mid America Student Regional Conference.
On behalf of AIChE and the Student Chapters Committee, congratulations, Sarah!
---
Fellow chapter member Joshua Sallee accepted the award at the AIchE 2018 Annual Student Conference on behalf of Sarah Desharnais.
You can see more 2018 Student Awards Ceremony photos on Flickr.