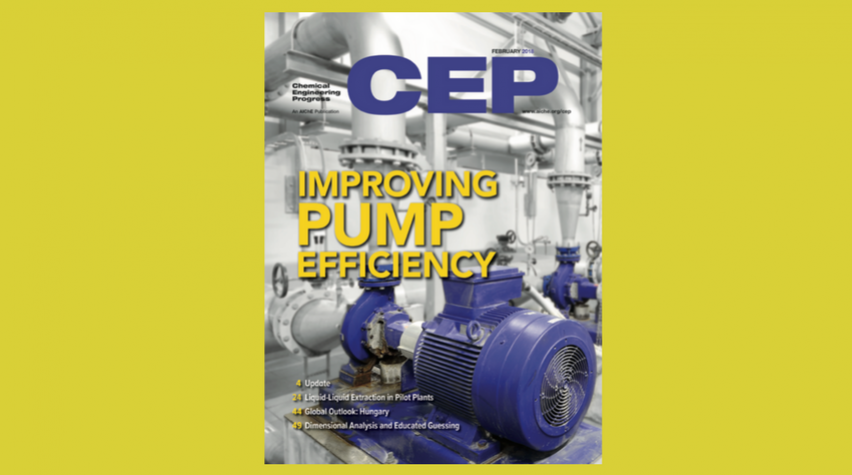 COMPUTATIONAL METHODS
Combine Dimensional Analysis with Educated Guessing
Use dimensional analysis and educated guessing to simplify experimentation and simulation, gain physical insight from empirical relationships, and extrapolate data.
REACTIONS AND SEPARATIONS
Pilot Plant Testing for Liquid-Liquid Extraction
When designing a liquid-liquid extraction column, pilot plant testing generates the data necessary for accurate scaleup to the production rate. This article describes how to optimize pilot plant testing.
FLUIDS AND SOLIDS HANDLING
Analyzing the Performance of Pump Networks,

Part 2: Improving Pump Efficiency
Best energy efficiency practices can reduce pump operating costs significantly. This article reviews the basics and presents a new way to account for variation in pump efficiency.
GLOBAL OUTLOOK
The Chemical Industry in Hungary
Restructuring and investment underpin export growth in Hungary's chemical industry. With continued investment in research and development projects, the country is on track to become a net exporter of chemical products.
Update
AIChE's Initial Placement Survey: The Class of 2017
Economic Report Shows U.S. Chemical Industry Weathered Hurricane Harvey
Genetic Engineering Makes Biomass More Digestible
Self-Healing Actuators Act Like Muscles
Plus
Editorial: Don't Get Complacent
Catalyzing Commercialization: An Economically Viable Process to Recover High-Value Products from Red Mud
AIChE Journal Highlight: Reducing Lithium in Zeolites for Air Separation
Leadership Q&A: Strengthening the Engineering Profession of the Future
Career Corner: Career Paths for Chemical Engineers
Profile: Kristala Jones Prather: Engineering Microbial Chemical Factories
Technical Entity Trends: Your Experiences Leave a Mark
Process Safety Beacon: Contamination as a Contributing Factor
Spotlight on Safety: Vulnerability Is Key to Safety
Product Focus: Heat Transfer and Fluids Handling
Books
Meeting Preview: AIChE's Spring Meeting and 14th Global Congress on Process Safety
Calendars
Institute News

AIChE's New Fellows
BASF Sponsorship Advances Critical AIChE Projects
RAPID Manufacturing Institute Delivers Congressional Briefing
Institute and BOD Award Nominations Due Feb. 15
mso-fareast-font-family:"MS 明朝";mso-bidi-font-family:"Times New Roman";
color:black;mso-ansi-language:EN-US;mso-fareast-language:EN-US;mso-bidi-language:
AR-SA">The February 2018 issue of CEP is now available online mso-fareast-font-family:"MS 明朝";mso-bidi-font-family:"Times New Roman";
mso-ansi-language:EN-US;mso-fareast-language:EN-US;mso-bidi-language:AR-SA">. AIChE members receive access to CEP, including a searchable archive of issues dating back to 2001, online at https://www.aiche.org/cep.