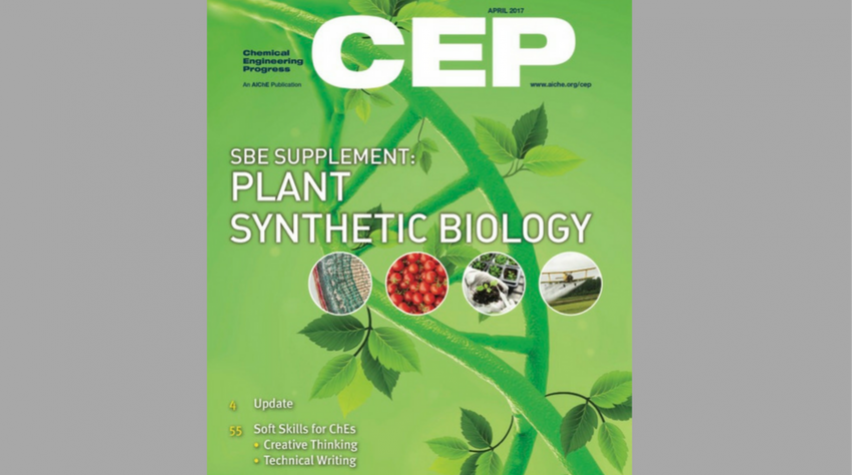 Soft Skills for ChEs
Become a Better Writer
You may call yourself an engineer, but you're also a writer. Follow these 10 tips to improve your writing.
Get Creative with Process Safety Management
Creative thinking is a necessary skill in process safety. While most people are born with the capacity for creative thinking, this skill can be lost through formal education and societal pressures that discourage it. Luckily, creative thinking can be learned.


SOCIETY FOR BIOLOGICAL ENGINEERING (SBE) SUPPLEMENT:  
PLANT SYNTHETIC BIOLOGY
SBE Update: The Blossoming Field of Plant Synthetic Biology
A Brief History and Outlook on Plant Engineering
Advances in plant mutagenesis and transgenesis will enable more sophisticated and precise engineering efforts in plants.
Synthetic Promoters for Precise Control of Gene Expression in Plants
Synthetic promoters can be designed rationally to provide tremendous advantages over their natural counterparts in terms of promoter strength and specificity.
Delivering Genes to Plants
Traditional methods of gene delivery to plants are labor- and time-intensive, are suitable for only a small number of hosts, and have high toxicity and limited practical applicability. This article discusses how nanoparticle-based approaches could enable efficient gene transfer into plants.
Solar-Driven Synthesis of Bioactive Natural Products
Using synthetic biology, researchers are harnessing the photosynthetic reducing power generated in the chloroplast for synthesis of high-value products.
INSTRUMENTATION
Process Control for the Process Industries — Part 2: Steady-State Characteristics
Chemical processing requires a different approach to control and automation than other types of machine and equipment control. This article focuses on the factors related to the steady-state characteristics of a chemical process.
Update
Flower Power: Electronic Rose Doubles as a Supercapacitor
Sulfur Is No Match for Potassium
A Zap of Light Emboldens Rhodium Catalyst
Steel Gets a Modern Makeover
Stretchy Sensor Detects Touch and Gesture
RNA-Based Technology Could Revolutionize Therapeutic Antibodies
Additive Boosts Li-Metal Battery Performance
Plus
Catalyzing Commercialization: A Cyanide-Free Green Process to Recover Gold

AIChE Journal Highlight: Advances in Nonlinear Programming for Process Optimization

Technical Entity Trends: Making Tissue Regrowth and Repair a Reality

Process Safety Beacon: Is Your Vessel Really Empty?

Process Safety Visions: Intentional Competency Development

Career Corner: Tests That Can Help You Reinvent Your Career

Profile: Marc-André D'Aoust: Innovating Plant-Based Vaccines and Therapeutics

The ChE in Context: PAIC: The ChE's Voice In and About Government

New Products

Offshore Technology Conference Expo Preview

Calendars

Institute News

AIChE Elects New Fellows

Bielenberg Named CTO of RAPID Manufacturing Institute

Your AIChE Membership: AIChE Engage
The April 2017 issue of CEP is now available online. AIChE members receive access to CEP, including a searchable archive of issues dating back to 2001, online at https://www.aiche.org/cep.