California is the only state in the country coping with too much solar power, and it's a problem that's still getting worse as each new utility-scale solar farm is built.
With Governor Jerry Brown pushing the state to get 50% of its electricity from renewables by 2030, afternoon solar has started to swamp the grid. Without storage to soak up the excess, grid operators only have one solution: order solar farms to dial back and curtail production. Suddenly, MW's of potential power can vanish.
How much solar is flooding the grid? During a record-breaking afternoon on July 12, 2016, the state generated 8 GW of utility-scale solar and 4 GW of behind-the-meter (residential or commercial) solar. Since more solar panels are installed every day, that record was 2,000 MW more than the previous summer. A state report shows that two years ago in 2014 2.2 GWh of renewables were curtailed that year, compared to 44,000 GWh of renewables used.
So in a state that drives 50% of the country's electric cars and generates about 50% of the country's solar, you'd think Tesla and SolarCity Chairman Elon Musk could solve the curtailment problem.
Actually, he already has (hypothetically). But the state's utilities aren't big fans of battery storage, yet. It's still more expensive than existing peaker plants, which balance the grid by adding power in the evening as solar wanes.
That will change once costs come down, and, as peakers are fired up less and less, they could become effectively worthless. In other words, solving curtailment becomes a dicey dilemma for every utility CEO: survival by disrupting your own business with a newer, more flexible grid.
The largest in the world
Last December JB Straubel, Tesla's chief technology officer, joined VIP's from Southern California Edison (SEC) and cut the ribbon for a new battery storage compound his company built in Mira Loma, 60 miles east of Los Angeles. (View a site promo above.)
Billed as the largest battery storage facility in the world, 396 Tesla Powerpacks surrounded Straubel as he promised the audience of utility execs a future filled with constant disruption and pain, "This project is in line with our mission to accelerate sustainable energy for the world."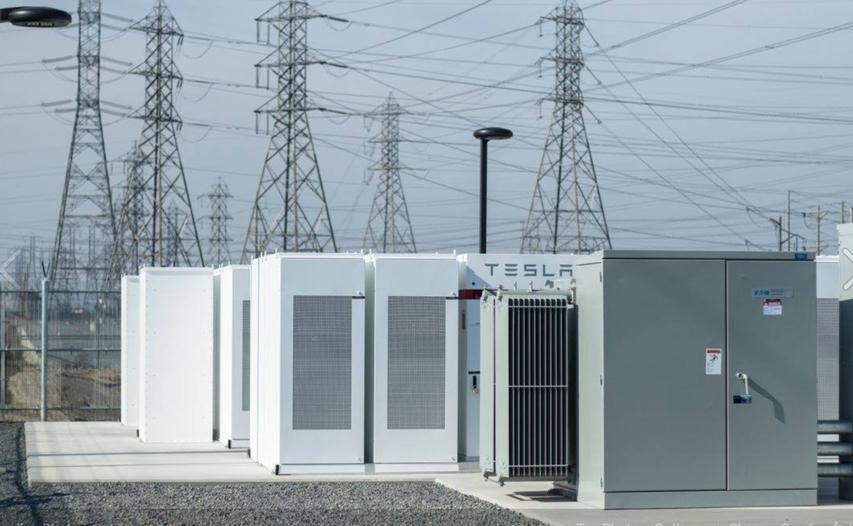 Disaster capitalism
State regulators were forced to jump-start Mira Loma after a disastrous natural gas leak from SCE's Aliso Canyon underground storage facility. As thousands of tons of methane escaped into the air, nearby homeowners were forced to flee until the leak was sealed last February.
Finally back in their homes, Aliso Canyon's angry neighbors demanded that the facility remain closed, especially after SCE insisted it was needed to keep the utility's fleet of turbines running. The standoff devolved into a crisis because peaker plants couldn't get enough reliable natural gas, which nixed their 24-7 fail-safe status.
Responding to the emergency, last summer the California Public Utilities Commission approved 100 MW of energy storage projects, stipulating they had to be built by December. SCE bet on Tesla's batteries, as the utility rushed to avoid winter home-heating blackouts (read Tesla's press release).
From signed contract to commissioning, Tesla's team worked 24 hours a day to complete construction in just three months.
Shortly afterwards, two other projects were rolled out by San Diego Gas & Electric working with AES Energy Storage and by Greensmith Energy Partners and AltaGas. Lost in the rush: each project alone was the largest battery storage facility ever built. Together, all three added 77.5 MW to the grid (read the AES press release).
Even before the quick buildout, the commission had made battery storage a part of replacing fossil fuels with renewables, setting a storage target of 1,325 megawatts by 2020.
Although California's goal is bold, it's trounced by Tesla's plan to lower costs by ramping up production at its Gigafactory to 15 GWh of storage a year by the mid 2020's.
Falling costs, growing size
The effects of low battery costs have already shown up in California. Two years ago when SCE built its first storage project, a small 10 MW demonstration plant in Tehachapi, it was only half the size of Mira Loma.
So how low can battery prices go? Tesla claimed to be "below $190/kWh" in early 2016. That was before cell manufacturing started, according to Electrek.
While building its Gigafactory, even before production started, Tesla predicted costs would drop 30%, but it now claims in this promo that it could be as much as 35%. Ball-parking $190/kWh and subtracting 35% leaves $124/kWh. Tesla's lurking within peaker-plant parity.
At the December ribbon cutting, Tesla's Straubel told Bloomberg, "It's hard to comprehend the speed all this is going. Our storage is growing as fast as we can humanly scale."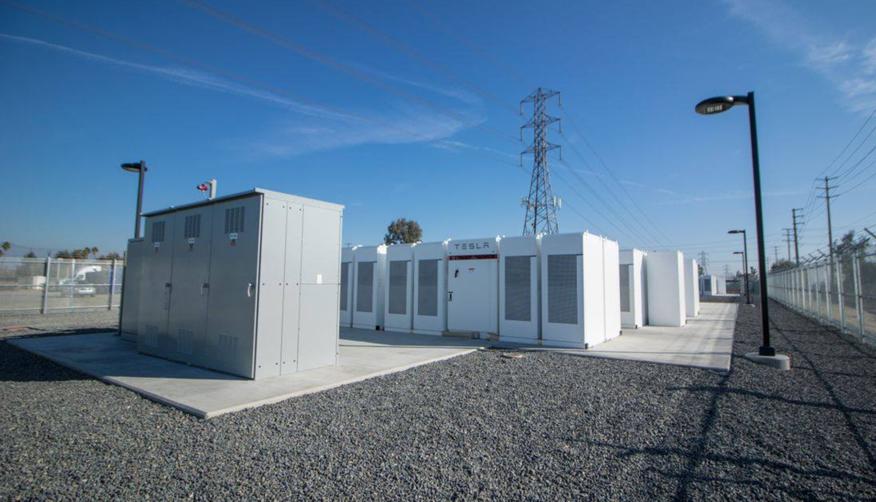 Tesla's record falls
It's no surprise that just a month after Tesla launched its 20 MW facility, Straubel watched competitor AES complete its larger 30 megawatt/120 megawatt hour plant in San Diego (view an AES promo).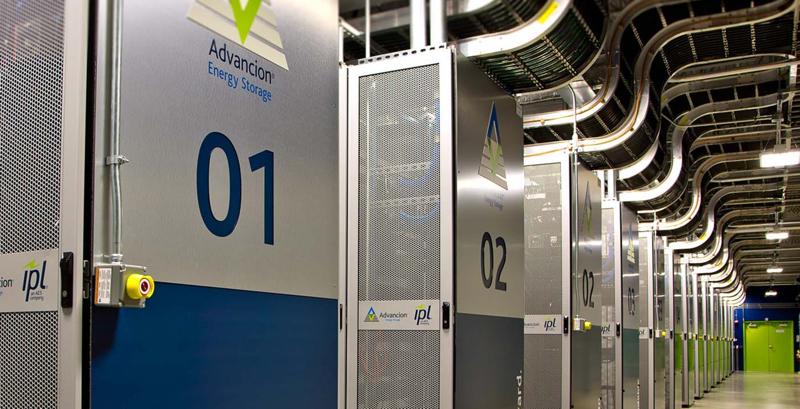 ---
When it comes to getting batteries on the grid, the press may fawn over Tesla, but Arlington, Virginia-based AES Energy Storage, has actually delivered more projects.
As an early pioneer, in 2008, long before Tesla was even in the storage business and struggling to launch its Roadster, AES ignited the industry by building the first profitable battery storage used for frequency regulation, which was an incredible feat considering prices were 10 times higher than today.
To make the numbers work on that first project, John Zahurancik, AES's president of energy storage, never considered building individual components like Tesla. Instead he kept costs down by outsourcing from competing manufacturers to get the cheapest price and the best technology. Sticking with that business model, he successfully rode huge performance and cost gains over the last eight years.
After watching falling battery prices accelerate as projects increased in size, he thinks battery dominance is close.
With 432 MW of battery storage in operation, construction or late stage development, Zahurancik plans to go big and build a 100-megawatt project for SCE in Long Beach in 2020. After that, there's a project on the drawing board five times bigger than Mira Loma for 2021. That's hitting a scale that would have been unimaginable just a few years ago.
While finishing the San Diego project, Zahurancik told Bloomberg, "This is my fifth time doing the largest project in the world.The next big test is how do we scale this up broadly."
How soon will batteries take over for gas peaker plants?
Images: various, SCE; storage, AES