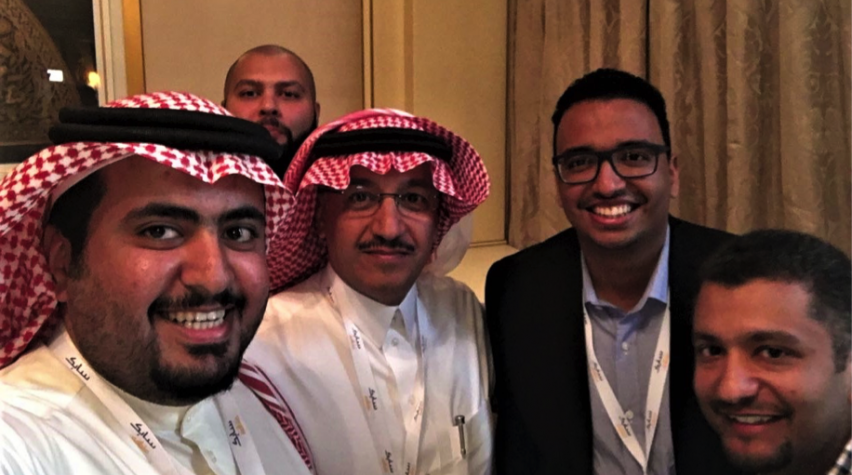 By: Saudi YPC Publication Subcommittee 
The Saudi Local Section Young Professionals (YPs) participated in the 3rd Global Summit on Process Safety (GSPS) that was held in Dammam (Dec 4-5, 2016). The Center for Chemical Process Safety (CCPS) organized the summit, which was sponsored by SABIC. Launched back in 2014, on the 30th anniversary of the Bhopal disaster, the CCPS Global Summit on Process Safety brings an ongoing discussion on further enhancing Process Safety to the Middle East and Asia. The summit that was held in Dammam consisted of several session topics and leadership forums, bringing together world-class industry experts, as well as process safety practitioners from the Middle East's top oil & gas and petrochemical industries. The summit created an exemplary forum for exchanging engineering practices and leadership traits that drive industry into a "zero harm" culture.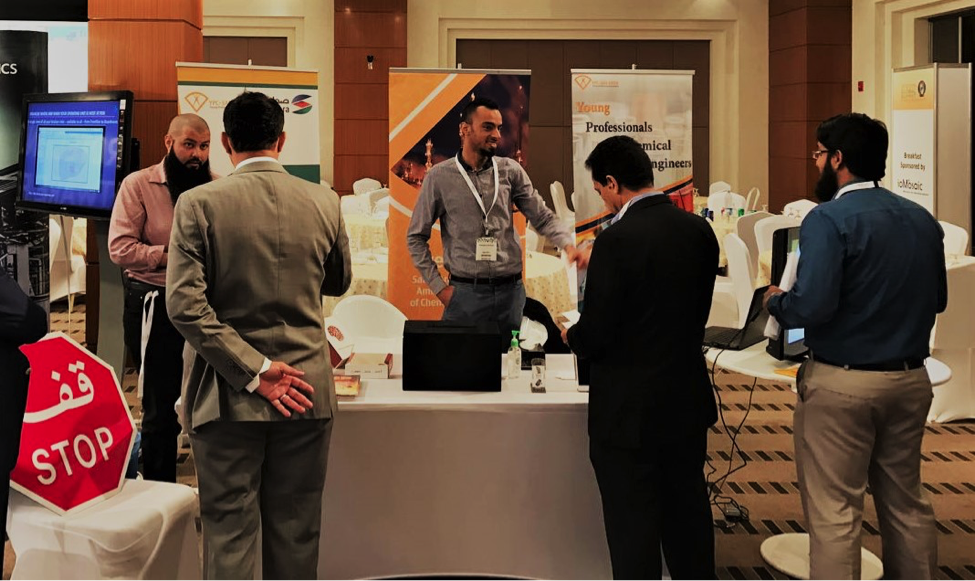 Saud Al-Ghwainem (left), Outreach officer of the Saudi YPs, and Mohammad Al-Mutawa (right) engaging with visiting professionals at the 3rd GSPS exhibition.
In addition to the academic and industrial panel discussions, the summit included an exhibition featuring more than 14 regional companies. Saudi YPs took advantage of this occasion to promote membership, volunteering, and industry sponsorship opportunities for attendees. With the sponsorship and support of SADARA, this participation is a continuation of the active presence of Saudi YPs in industry-focused events in the GCC region with the strategic aim of increasing awareness about the team's mission and vision among working professionals.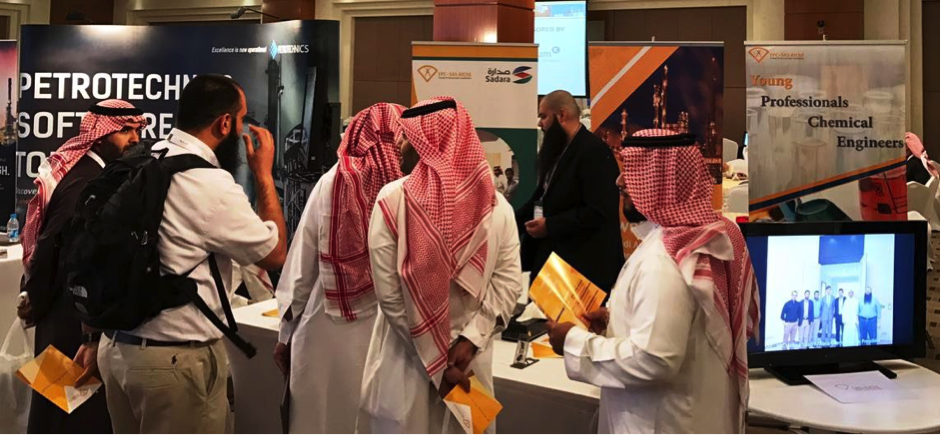 Around 500 professionals visited the Saudi YPs' booth at the 3rd GSPS exhibition
The Saudi YPs' booth attracted nearly 500 visitors, which provided the opportunity to directly interact with process safety professionals. Ten Saudi Local Section officers clocked over 30 volunteer hours to prepare for this occasion. Tamim Al-Jasir, Recruitment Sub-Committee Chair for the Saudi YPs, emphasized how the team has worked in harmony to create a positive and long-lasting impression for visitors. Tamim stated that "YPs committed their time and effort during this summit in order to encourage young professionals to join AIChE and engage with the Young Professionals." A total of over 50 volunteer hours were contributed by Saudi YP officers, according to Tamim. Team officers distributed flyers highlighting benefits of joining AIChE and the Saudi Section. A raffle was drawn on the last day of the exhibition, in which one winner out of nearly 500 participants was awarded an Xbox console.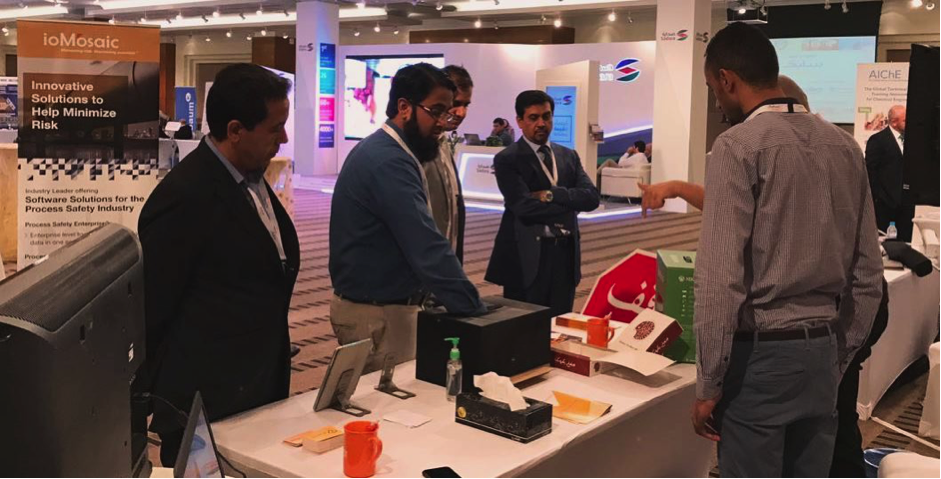 Saudi YPs organized a raffle draw to engage with visiting professionals at the 3rd GSPS exhibition
Saudi YP officers met with Mr. Yousef Al-Benyan, Vice Chairman and Chief Executive Officer of SABIC, one the five world's largest diversified petrochemicals companies. Mr. Al-Benyan was briefed about Saudi YPC mission, vision, and activities. Mohammad Al-Yanbaawi, Saudi YP Vice Chair, shared with Mr. Al-Benyan opportunities and benefits of supporting team's portfolio of programs for the upcoming year.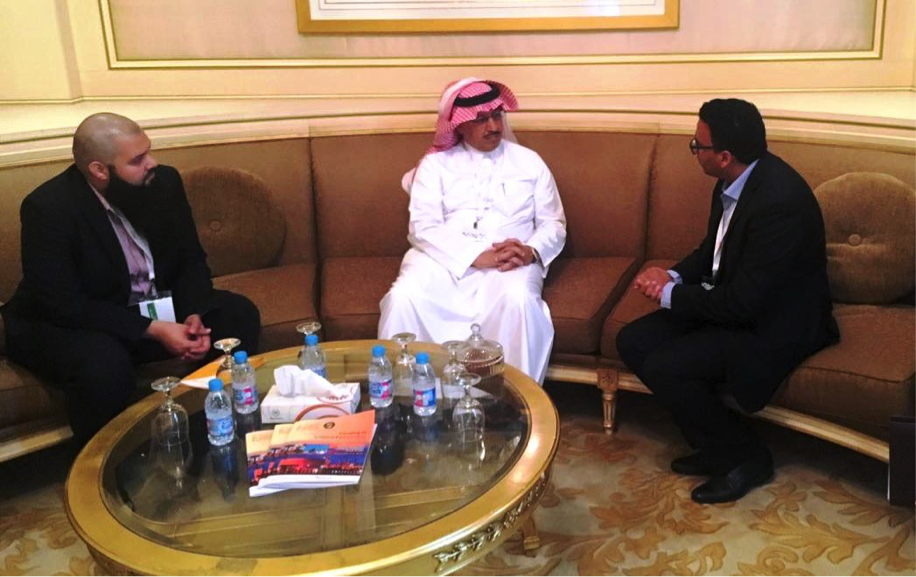 Saudi YP officers Mohammed Al-Yanbaawi (right) and Saud Al-Ghwainem (left) briefed Mr. Yousef Al-Benyan, CEO of SABIC, about the achievements of and future plans for Saudi YPs
To keep up to date on upcoming events and what's happening with the Saudi YPs, follow them on Twitter
@AIChE_Saudi
.