Two weeks ago, Dr. Art Rosenfeld, the embodiment of energy efficiency, died in his home at the age of 90, not far from the Berkeley lab where he worked for over forty years.
After hearing the sad but not unexpected news, scientists and politicians — who all consider him father of energy efficiency — rushed to praise the global impact of his work. (You can also watch a 2006 speech where he disarmingly describes his career in the window above.)
Since Dr. Rosenfeld was always self-deprecating, here are some cherry-picked testimonials. "His path-breaking ideas transformed our energy sector from one of massive waste to increasingly elegant efficiency," said Gov. Jerry Brown, who was inspired by Rosenfeld in the 70's during his first term as California's governor.
Former Secretary of Energy Steven Chu said, "Over the past four decades, it's no exaggeration to say that the work Art pioneered is now indispensable in how the world transitions to a sustainable future."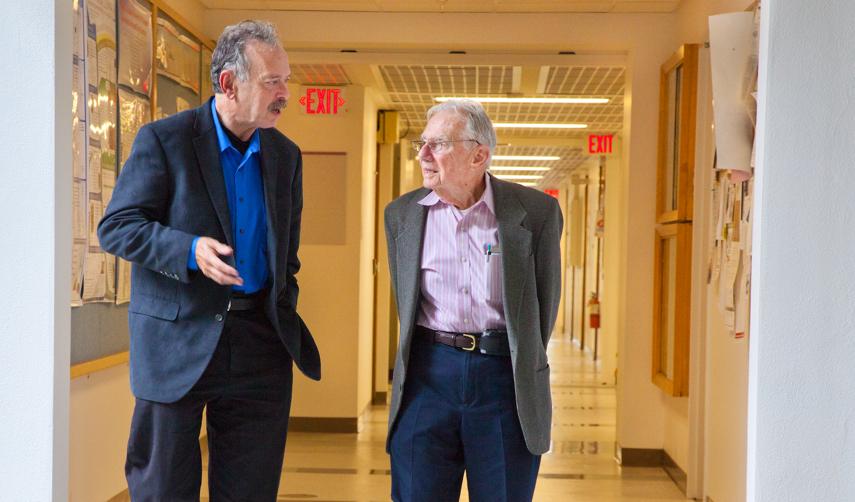 ---
When Rosenfeld launched this new field over forty years ago, there was plenty of Earth Day fervor, but there were no laboratories or graduate programs to support it. So he set out to assemble an army of scientists and equip them with the latest tools.
As he set up new labs, and later, think tanks, the future energy guru always kept a keen eye out for zealous, committed researchers. And mentoring became the tool he used to inspire them. Eventually, his generous, congenial style was so successful that disciples flooded academia, industry, and government over the years, stocking facilities like the Berkeley Lab, Stanford University, or the Natural Resources Defense Council.
Chu explained the Rosenfeld migration, "He inspired over two generations of researchers; I include myself among those inspired."
Ashok Gadgil, a former grad student who is now deputy of the Energy Technologies Area at Berkeley Lab, agreed, "He's been a role model not just to me but to literally hundreds of other people."
Zen and the art of the Arab oil embargo
Rosenfeld fell into energy efficiency unexpectedly. After eighteen years in particle physics at UC Berkeley, he abruptly changed direction, when, in 1973, the future suddenly revealed the limitless possibilities of energy efficiency to him. This life-changing realization struck during the Arab oil embargo.
Alone in the lab on a Friday night and dreading the half hour wait to fill his gas guzzler, Rosenfeld was so struck by America's waste of energy during a severe crisis — quads of energy casually burned off — he immediately turned out all of the lights burning in the 20 offices on his laboratory floor.
As he flipped each switch, he remembered personally learning about energy conservation doing physics in Europe, where co-workers used much less energy (almost half) but still maintained similar living standards. It was obvious the US could easily cut its profligate energy habit.
He also realized that if Americans used energy as efficiently as the Europeans or Japanese, the country could export oil and compete against its OPEC nemesis.
"After searching for long-ignored wall switches — many lodged and forgotten behind heavy bookcases — I shut off lights that had blazed day and night for years (then calculated a savings of 100 gallons for the weekend). Finally standing in the darkness, I decided that UC Berkeley should do something," he wrote in a 1999 autobiography, "The Art of Energy Efficiency."
And by 1975, he had created the Energy Efficient Buildings Program at Lawrence Berkeley National Laboratory, where he started analyzing how more efficient appliances like refrigerators and air-conditioners could save billions of dollars in unused energy.
From megawatts to negawatts
Rosenfeld's concept of energy efficiency valued savings against the output from coal, gas, or nuclear plants. Unused energy by a more efficient device became the equivalent of fossil fuel that wasn't dug, drilled, and combusted. So future power plants and transmission lines could stay on the drawing board.
Rosenfeld's lab also spun-off innovations: Electronic ballasts that made compact fluorescent lamps (CFLs) possible; a transparent coating for window glass that blocked heat from either escaping (winter) or entering (summer). He also developed the first computer programs for analyzing building energy efficiency, which became a California standard in 1978 and eventually the national standard.
Gov Jerry Brown becomes a believer
Not only was Rosenfeld famous for his detailed calculations, but he had a facility for translating complex science into jargon-free chunks of clarity. For an innumerate, science-wary public, he streamlined data into easily understood equivalencies, like how many cars could be taken off the road or how many power plants that would remain unbuilt.
Armed with a gift for persuasion, fate or good luck threw a young Governor Brown, then in his first term in office, and Rosenfeld together for dinner at a Berkeley faculty event, where they discussed the proposed 1GW Sundesert nuclear plant that Brown was desperately trying to avoid building.
Dr. Rosenfeld told him that by requiring energy efficient refrigerators, the state could save as much electricity as the Sundesert plant would produce. Apparently, Brown chewed on that new concept overnight. The next morning, according to the New York Times, Rosenfeld got a call from a top California energy official.
"He said, 'Art, Jerry Brown woke me up this morning at 8 am to know if this guy Art Rosenfeld is real,'" Rosenfeld recalled years later. "And that was the unraveling of Sundesert."
Energy-efficiency requirements for refrigerators and freezers sold in California went into effect in 1977. They were soon followed by standards for other appliances. In 1987, the federal government, following California's lead, began imposing its own efficiency requirements for appliances.
In 1978 California also adopted the first energy-efficient building code, partly as a result of his research.
---
All of these regulations have severely dampened energy consumption in the state. In what is now called the "Rosenfeld effect," California's per-capita electricity use has remained relatively steady since the mid-1970s, despite the birth of the internet and its energy-sucking gadgets. Meanwhile, the rest of the nation's usage has climbed.
Moving into politics
Nearing 70 years of age and having completed the bulk of his research, Rosenfeld was winding down when Bill Clinton came to office. "I began to catch a case of Potomac fever," he wrote. In 1994 he brought his gravitas to the Department of Energy's Assistant Secretary for Energy Efficiency and Renewable Energy, where he worked on low-carbon technologies.
Post Clinton and back in California in 2000 Gov. Gray Davis appointed him Commissioner at the California Energy Commission (CEC), and in 2005 he was reappointed by Gov. Arnold Schwarzenegger.
After 10 years on the CEC, Rosenfeld returned to the Berkeley Heat Island Group he had helped launch in 1985. Its mission is to investigate how cooler surfaces — like white roofs — can help cool cities. Recently, as an advocate for cool roofs, he co-authored several papers on how cool roofs can offset carbon dioxide emissions and mitigate global warming.
World acclaim
As global energy savings accumulated from his work, his influence grew. According to the Berkeley Lab, he received the Szilard Award for Physics in the Public Interest in 1986, the Carnot Award for Energy Efficiency from the Department of Energy in 1993, and the Berkeley Citation in 2001 from the University of California.
In 2006 he won the Enrico Fermi Award, one of the nation's oldest and most prestigious awards for scientific achievement. In 2010 he was awarded the Global Energy International Prize, established by Russian scientists in 2002.
In 2012 President Obama named him one of 11 recipients of the National Medal of Technology and Innovation, one of the highest honors bestowed by the United States Government upon scientists, engineers, and inventors.
And just last year the Tang Prize Foundation announced that it was awarding to Rosenfeld its 2016 prize in Sustainable Development "for his lifelong and pioneering innovations in energy efficiency resulting in immense reductions in energy consumption and greenhouse gas emissions around the world."
Will the Trump administration realize how many jobs are created by the energy efficiency sector?