AIChE's Stephanie Orvoine-Couvrette sat down with three chemical engineers who serve or have recently served as president of universities. In this interview are John Anderson, distinguished professor of chemical engineering, former president, Illinois Institute of Technology; Paul Johnson, president, Colorado School of Mines; and Eric Kaler, president, University of Minnesota. The three discussed the current state of chemical engineering education and upcoming trends and challenges.
These guest were all part of a larger discussion in the Meet the Presidents session at the 2016 AIChE Annual Meeting, where they presented their ideas and took questions from audience members about the evolution of chemical engineering education. The session was created to begin a conversation among the greater chemical engineering community so that we can be proactive and foster positive change from our positions in industry, academe, and national laboratories.
This session was generously supported by The AIChE Foundation's Doing a World of Good Campaign.
Doing a World of Good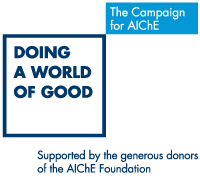 The Doing a World Campaign is the most ambitious fundraising programs in AIChE's history and will drive the profession for decades to come by funding five transformative priorities that advance chemical engineering and bring that expertise to bear in addressing societal needs.
Learn more at www.DoingaWorldofGood.Org