AIChE's 2016 Annual Student Conference got its start this morning in San Francisco with keynote speaker Jim Fitterling, chief operating officer at Dow Chemical. Some 2000 students have come to San Francisco for the conference, and Fitterling spoke to a packed house.
AIChE executive director June Wispelwey greeted students, pointing out the exceptional diversity of the crowd: this year's Annual Student Conference is attended by students from around the US and 27 other countries. 2016 AIChE president Dr. Stephanopoulos also greeted students and introduced Jim Fitterling, pointing out the speaker's numerous and varied career achievements.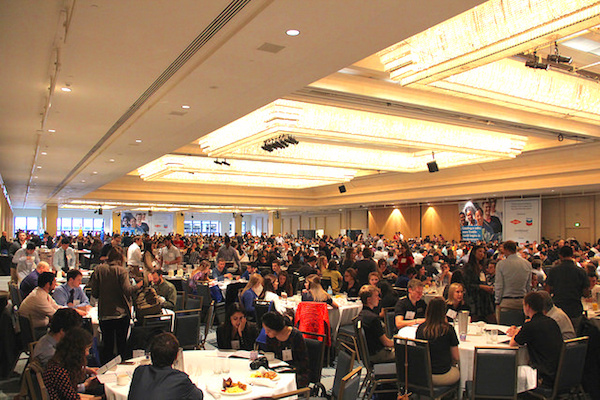 Great time to be a chemical engineer
Fitterling remarked on the incredible impact chemical engineering has on our daily lives, noting the many advances in computer science, food production, and medical technology that owe a significant debt to the work of chemical engineers.
He also pointed out that while some consider the period from 1900 to 1960s as the golden era of chemical engineering, he feels today may actually be a more exciting time to be a chemical engineer. Given that many of the "easy" solutions and discoveries are behind us, today's and tomorrow's chemical engineers are faced with solving the so-called grand challenges. Chemical engineers now have the opportunity and responsibility to better the world and improve billions of people's lives.
Collaboration and diversity key
Fitterling praised young engineers for being "the most collaborative, socially active, always-connected generation in history" and he encouraged the audience to nurture this attribute because industry is moving away from "siloed" approaches and will benefit significantly from increased collaboration.
He also underlined the importance of diversity in the workplace to promote and encourage the kind of varied viewpoints and ideas that lead to solutions and innovation.
Demand diverse working environments, embrace them. And let that diversity enrich your life and carry you to loftier heights.
Safety at heart of success
Fitterling also emphasized the critical role safety plays in chemical engineering success. Underlining Dow's commitment to safety, he discussed his own involvement as co-chair of the AIChE's "Doing a World of Good" campaign.
One of the campaign's core priorities is to deliver process safety education at the undergraduate level, and Fitterling said he agreed to take on a role in the campaign because he saw safety as mission-critical for the industry.
Fitterling closed by encouraging students to reflect on their future and how they can become a part of tackling the world's greatest challenges. The talk ended with a standing ovation and with a number of questions from the crowd.