The Paris climate agreement is the world's best effort yet to ward off the existential threat of climate change. Fortunately, it's much closer to reality now that India formally joined on Sunday, following the US, China, and Brazil.
India's commitment was important because the agreement won't take effect until 55 signatories, representing 55 percent of global emissions, join together. Representing the 62nd signatory, India brings the current emissions total to 52.89 percent (read press release).
And even though big emitters like Russia, Japan, Canada, and South Korea are dragging their feet, it looks like the EU is ready jump in next week and vault the world across the 55 percent threshold.
Betting big on solar
As part of the climate vanguard, India's Prime Minister Narendra Modi is committed to moving his country—the planet's fourth-largest CO2 emitter behind the US, China, and Brazil—beyond coal to a broader mix of power sources, particularly wind and solar power.
That's been his goal since taking office, when he put his country on a trajectory to increase its solar power capacity to 100 gigawatts by 2022. Responding to Modi's goal, Gautam Adani, chairman of the Adani Group, with interests in coal mining, and oil and gas, bet big on solar power.
Now those bets are finally playing off. Just this month, Adani Green Energy linked its massive, $679 million, 648-MW solar array to the grid. Spreading across 2,500 acres in the intensely sunny state of Tamil Nadu, it supplies energy for 300,000 homes (read the Adani press release).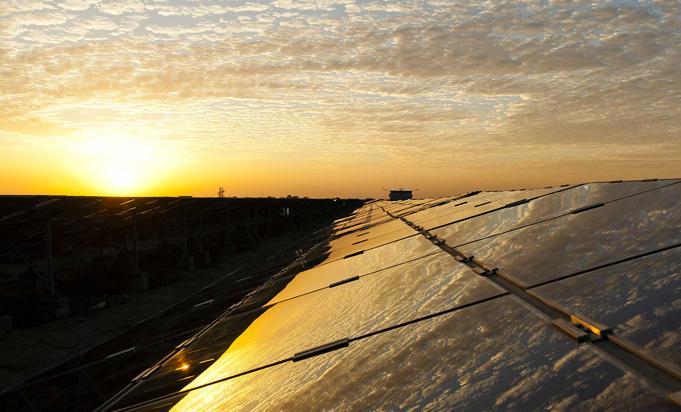 ---
Impressively, power started flowing to the grid only eight months after construction began. By pushing 8,500 workers to work around the clock, Adani installed 11 megawatts a day, while putting up 380,000 foundations, 2.5 million solar modules, 576 inverters, 154 transformers and 6,000 kilometers of cables. That frenetic pace, documented by NatGeo, is even more impressive after watching the company battle the monsoon and floods that devastated southern India in 2015.
Finally back on dry land for the opening ceremony, the state's chief minister said his government would buy the plant's entire output for 7.01 rupees/kWh ($0.10/kWh) over 25 years.
Then Gautam Adani pointed out the day's symbolism, "This plant reinstates the country's ambitions of becoming one of the leading green energy producers in the world."
Meanwhile, country-wide, grid-connected solar power crossed the 8 GW mark in July 2016, which included construction in 29 states. The Energy Ministry expects to install 12 GW of solar power by March 2017.
Cheaper than coal
Predictably, India's increasing solar buildout is driving down prices across the country. Just last January, while Adani's crews were still mopping up from the monsoon, a solar auction hit a record low of 4.34 rupees/kWh, prompting the country's energy minister Piyush Goyal to say that solar is now cheaper than coal-fired generation.
Finnish group Fortum Energy bid 4.34 rupees/kWh to build 70MW of 420MW solar capacity in Rajasthan.
Fortum's offer wasn't a one-time loss-leader either, according to Cleantechnica. The bid was almost matched by Rising Sun Energy (which bid 4.35 rupees for two blocks), France's Solairedirect (also two blocks for 4.35 rupees a unit) and Yarrow Infrastructure ( a 70MW plant for 4.36 rupees).
A manufacturing bottleneck
While grid electricity prices are dropping, there's still a huge obstacle blocking India's home-grown solar. Adani may have built its plant in a record eight months, but it had to import most of the components to do it. And India still doesn't manufacture its own polysilicon, which is the foundation for the whole industry. Compounding the bottleneck, there isn't a single large solar cell fab in the whole country.
So given Modi's ambitious mandate to build 100 GW of solar power by 2022, India's manufacturing capacity is brutally inadequate. In the foreseeable future, 95% of the country's solar cells and modules will come from China and Malaysia — and cost more than if they were built by local industry.
Market share has also gotten worse. Today eight out of the top ten module suppliers in India are now Chinese, against just four out of ten a year ago. Only First Solar, from the US, and India's own Waaree were able to join the Chinese firms in the top ten, while Trina Solar and Canadian Solar consolidated their lead at the top. And even though India's Vikram Solar grew its shipments, it still managed to lose market share to outsiders.
India's first world class solar fab
To correct the import problem, Prime Minister Modi's Energy Ministry recently incentivised industrial parks for domestic manufacturing.
Shortly afterwards, Adani announced that it would begin construction on phase one of a 2-GW solar cell and module fab. The first phase is expected to be online by March 2017, with capacity of 1.2 GW; a second phase will be operational by June 2017, increasing production to 2 GW.
A third phase will produce up to 10,000 tons of polysilicon, and, according to the Economic Times, the Adani Group's success will be crucial to the future of solar manufacturing in India.
"Our plan is to set up the country's largest vertically integrated manufacturing facility and create an end-to-end solar power play," Samir Vora, CEO of solar manufacturing, told PV Magazine reporters at a press conference in Mumbai.
"This facility will integrate polysilicon refining, ingots, wafers, cells, PV backsheets, and panels, with an extended supply chain for raw materials and consumables," Vora added.
Andani expects that its modules will be used in its own projects or sold to other regional developers. The company might also export up to 30% of its output to the US and Europe.
Just last month, Adani Enterprises applied with the Ministry of Environment to set up a 1 million-tons-per-year copper smelter. Unnamed sources said it would feed demand from the company's solar module manufacturing.
Will the solar price tipping point reduce new coal plants in India?
Images: solar farm, NatGeo; solar panels, Adani